Squamate superlatives: mosasaurs and snakes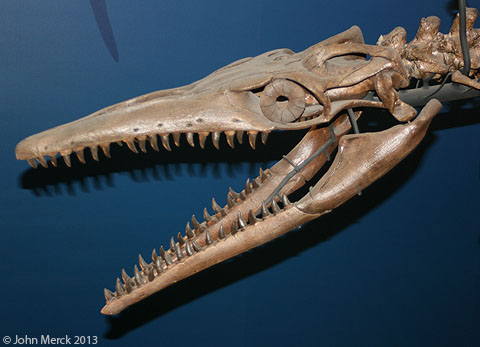 Plotosaurus bennisoni
Mosasauroidea: (Cretaceous)
Mosasaurs, a particularly spectacular scleroglossan group, appeared and thrived in the second half of Cretaceous, but were extinguished by K-T extinction. During that interval, they ranked among the oceans' dominant predators. Mosasaurus was the first fossil reptile to be studied scientifically by Georges Cuvier, who identified it as a lizard.
A look at the quadrate of Tylosaurus (right) clearly shows the apomorphic squamate quadrate. Other interesting mosasaurian features include:
Transformation of the limbs into flippers
Elongation of the snout
Retraction of the nares
Development of a distinct hinge joint at the mid-length of the jaw.
Organization of the palatal teeth into a single stout row.
Despite this long history of study, mosasaurs continue to surprise us. E.G. the mosasaur tail has always been reconstructed as
laterally flattened
but similar to other lizard tails.
Lundgren et al. 2013
demonstrated that the mosasaur
Prognathodon
, at least, had a
full-blown tail fin
. Could other mosasaurs have been that different?

Opetiosaurus buccichi
All agree that mosasaurs are monophyletic and derived from "Aigialosaurs," a paraphyletic group of semi-aquatic medium-sized scleroglossans. Their close relatives are Dolichosauridae, containing medium-sized marine scleroglossans with long necks.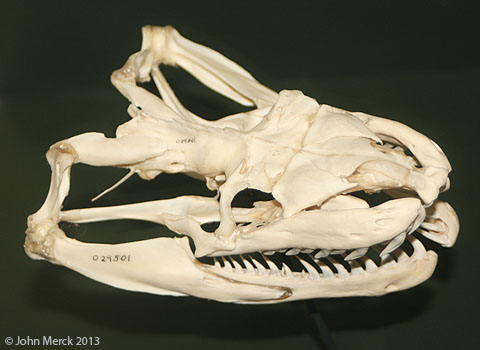 Serpentes:
(Late Jurassic - Rec.) The most subtle of beasts.
Rather than giving a synapomorphy list, we will note major evolutionary trends:
Limbs reduced or absent.
Lidless eyes protected by a transparent scale.
A unique pattern of rods and cones in the retina resulting in a reduction of color vision (typically well-developed in sauropsids.)
External ear opening lost.
The temporal region is long in comparison to the snout (a condition found in other "head hunters" like aistopods.)
Braincase reinforced anteriorly by laterosphenoid ossification.

Bones of the dermal skull roof and braincase fuse into a solid cylindrical unit.
The quadrates, palate bones, maxillae and premaxillae become very loose and mobile, allowing manipulation and swallowing of large food items.
The supratemporal, the skull bone to which the quadrate attaches, also becomes mobile with respect to the braincase.
The teeth of the palate are organized into a pair of rows.
The jaws are jointed at their mid-length and flexible, and in most cases, the two sides do not connect in front, allowing swallowing of even larger objects.
The comparison of the skulls of the Nile monitor lizard and reticulated python (a snake showing a relatively ancestral serpentine morphotype) underscore these differences.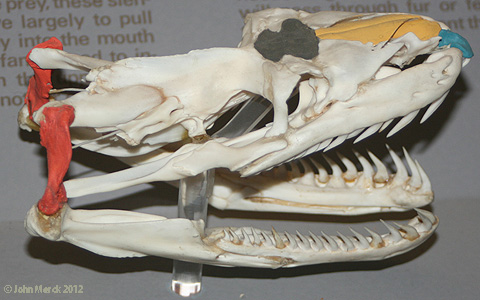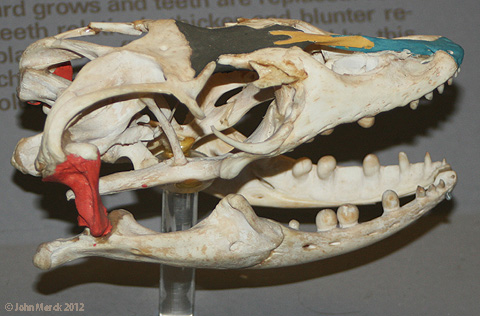 Nile monitor (left) and reticulated python (right) with premaxillae (blue), nasals (yellow), frontals (brown) and quadrates (red) highlighted.
These
trends
are even more pronounced in derived snakes like
vipers
.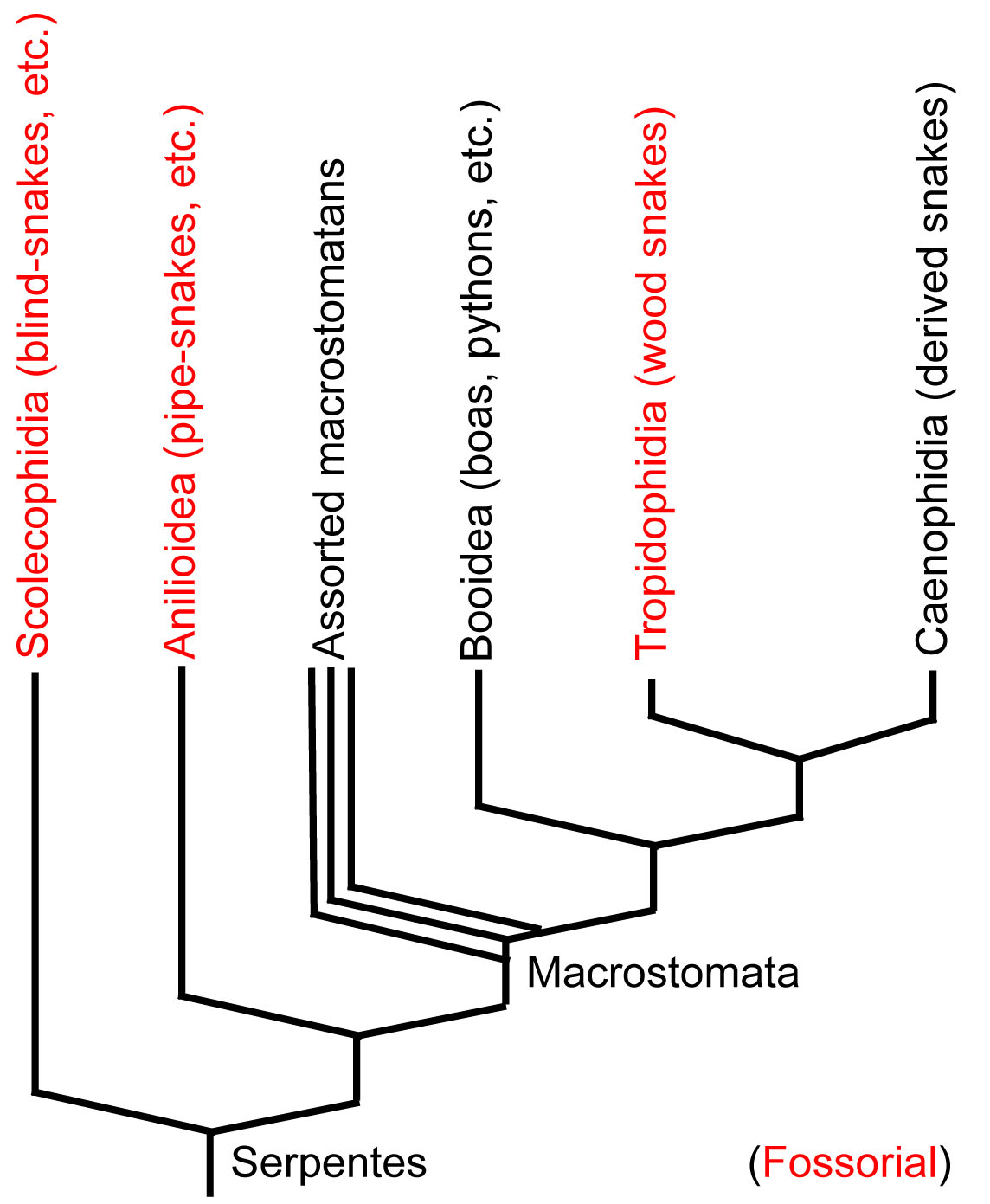 The ancestral condition of snakes: Two hypotheses have been proposed, both of which address snakes odd sensory systems:
The aquatic hypothesis: The ancestral snake's visual system was modified for the lower lighting underwater. Loss of the tympanum reflects lack of need for impedance-matching ear underwater.
The fossorial (burrowing) hypothesis: The ancestral snake's visual system was reduced in an ancestor that mostly lived underground and had little to see. Reduction of tympanum reflects advantage, underground, of picking up vibrations with jaw.
Systematists are drawn into this debate because the discovery that the sister taxon of Serpentes was either aquatic or fossorial would lend weigh heavily in the dispute.
Basal snakes: Proponents of the fossorial hypothesis derive comfort from the cladogram of living snakes.
Note: both of these groups are ancestral enough that they lack the
broad belly scales
that we typically associate with snakes.
Amphisbaenians and skinks, also with fossorial adaptations, have both been proposed as sister taxa of snakes.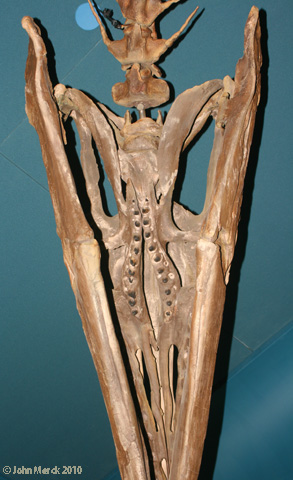 Tylosaurus proriger
, a mosasaur (right);
Python sebae
from
BioLib
(left)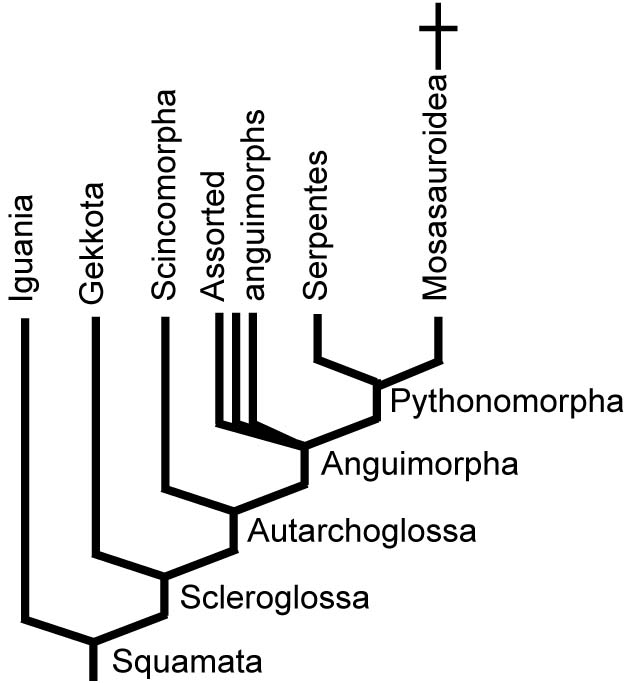 Pythonomorpha hypothesis
: But since the 19th century mosasaurs, and their close relatives the dolichosaurs, have been proposed as sister taxa of snakes based on the morphology of their palate and jaws. Similarities include:
A single row of stout palatal teeth
Mobile joint at the mid-lenght of the jaw.
Reduction of limbs and limb girdles.
A sister taxon relationship between snakes and mosasaurs was first hypothesized by
Cope, 1869
, who coined the group name Pythonomorpha, and proposed that they belonged to Anguimorpha.
Pachyrachus problematicus
Renewed debate:
In the 1990s, gasoline was thrown onto the issue of snake origins and relationships by a volley of descriptions or redescriptions of primitive snakes from the Cretaceous, including
Pachyrachus problematicus
(
Lee and Caldwell, 1997
),
Haasiophis terrasanctus
, and
Eupodophis descouensis
. Stimulating because:
At first glance, a snake with legs ought to be a basal primitive snake, and a marine basal primitive snake ought to cinch the marine ecology of the ancestral snake, and support the pythonomorph hypothesis.
But not so fast.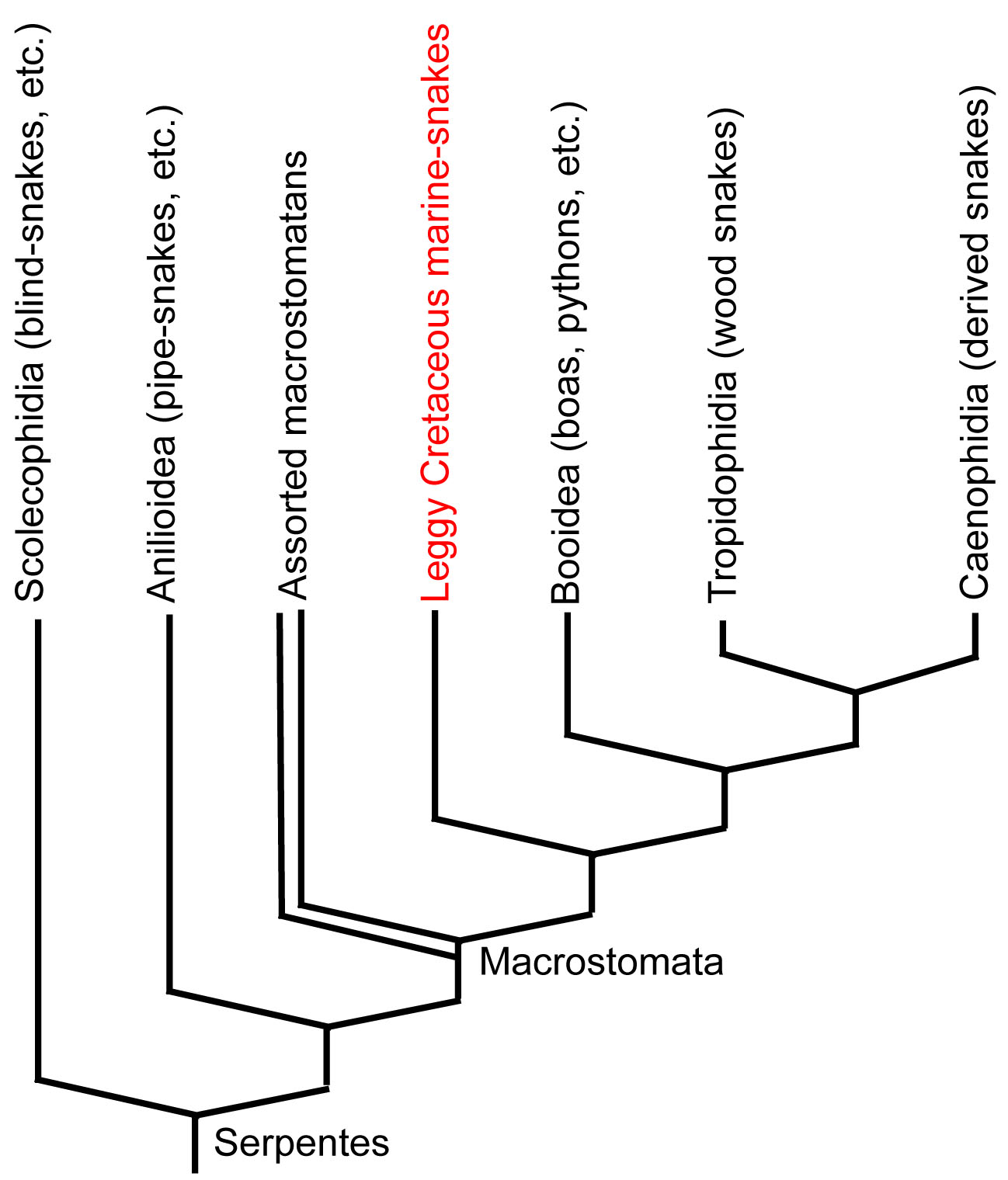 Their skulls proved to have the derived characters of macrostomatan snakes. Thus, despite the presence of legs, most cladistic analyses continue to place them well within the crown of living snakes. Apparently the presence of legs in them is a reversal. Strange! Of course, if they are derived snakes then they do not represent the ancestral condition.
More recently, Caldwell et al., 2015 have revealed leggy snakes from the Late Jurassic. These, in contrast, to Pachyrhachis, occupy a basal position in Serpentes.