Tetrapoda - the definition!, Life strategies, love, and homology among the amphibians
The Devonian extinction seems to have wiped out the water-breathing digit-bearing vertebrates like Acanthostega and Ichthyostega, however many basal stegocephalians held on in the Early Carboniferous. Among them was the (unknown) last common ancestor of all living land vertebrates - the ancestor of Tetrapoda.
Tetrapoda as traditionally conceived contains the vertebrates with fingers and toes. Like pornography, we feel we know tetrapods when we see them, but when we try to define them explicitly, they get slippery.
Actually applying the term to the cladogram is very problematic for two reasons:
Competing concepts of the name: The name greatly predates the era of cladistics. Traditionally, it was meant to mean, "vertebrates with hands and feet, and their descendants." Translating this meaning into the phylogenetic era is problematic.

Some workers, including Jennifer Clack, feel that excluding creatures with hands and feet from a group whose name means "four feet" is perverse. This is a classic "apomorphy-based definition."
Some, including Clack's associate Michael Coates, favor restricting the name to the "crown group" - i.e. the node-based group defined as the last common ancestor of living members of the group.

Thus, even if we agree on the cladogram, we get very different placement of the name.

Your instructor favors the crown-group definitions (but why might that be?), so for the purposes of HONR219D, Tetrapoda is the last common ancestor of Lissamphibia and Amniota and all of its descendants.


Competing reconstructions of the phylogeny: Alas, workers don't agree about the shape of the cladogram either. Thus, even if we agreed to use the crown-group definition of Tetrapoda, its actual membership varies quite a bit depending on which cladogram you hang it on.

For now, we accept the consensus phylogeny of Coates et al., 2008. (congruent with Ruta et al., 2003, right.) For an alternate view, by Michel Laurin see the Tree of Life.
Synapomorphies:
Complete obliteration of the division between the anterior and posterior portions of the ancestral sarcopterygian bipartite neurocranium.
First two cervical vertebrae specialized as the atlas and axis. These facilitate movement of the head on the neck.
Phylogeny
: Tetrapoda consists of two major lineages:
Amphibia: (total-group) All organisms more closely related to Lissamphibia than to Amniota.
NOTE: This use of the term "Amphibia" excludes creatures like seymouriamorphs and lepospondyls, even though they might have ecologically resembled modern amphibians.


Temnospondyli: (Node-group) The largest node-based group within Amphibia, including the living Lissamphibia and numerous extinct forms.
Lissmphibia: (Crown-group) The last common ancestor of living amphibians (frogs, salamanders, and caecilians) and all its descendants.




Gephyrostegus bohemicus

(Carboniferous) a basal reptiliomorph from

Wikipedia

Reptiliomorpha: (total-group) All organisms more closely related to Amniota than to Lissamphibia.


Amniota (Crown-group) The most recent common ancestor of mammals and birds and all of its descendants.
Crown-groups:
Node-based monophyletic groups specifically defined to encompassed all living diversity. E.G.: Lissamphibia.
Dendrerpeton acadianum
(Carboniferous) a basal amphibian from
Wikipedia
Amphibia
: For now, we consider Amphibia. A basal member of this group like
Dendrerpeton
(right) does not look terribly different form a basal reptiliomorph like
Caerorhachis
(above) however the "amphibian" lineage acquired certain derived features early on, including:
The opening for the spiracle has become a wide embayment in the rear of the skull roof and the stapes is relatively slender. We interpret that the spiracular opening is closed by the a tympanum and that, together with the stapes, it functions in an impedance-matching ear. (The first of several such derivation.)
A four-fingered hand.
Wide openings in the palate.
Large fangs in the palate.
Most fossil "amphibians" belong to a large group called Temnospondyli that is probably contains Lissamphibia. Excluding lissamphibians, this is a diverse group of tetrapods ranging from the Early Carboniferous to the Cretaceous, although their heyday was the late Paleozoic and earliest Mesozoic. They lived in or near a variety of fresh water and shallow marine aquatic habitats and exhibited a wide range of body forms, some being stout with broad heads, some flattened, and some elongate. Head shapes, likewise varied from long snouted to broad headed forms. All were aquatic predators of some stripe or another. Dendrerpeton is a basal member of this diverse group. It is less than a meter in length, but many temnospondyls achieved the size of crocodiles, and displayed varying degrees of aquatic or terrestrial specializations.
A few interesting highlights:
(Want to know more? For all your temnospondyl needs, check out the temnospondyl entries on Darren Naish's wonderful
Tetrapod Zoology blog
.)
Capetus
by D. Bsogdanov from
Wikipedia
The well-known temnospondyls display:
Breathing:


No trace of opercular bones although some evidence for the retention of gills in many adult forms - perhaps obtaining oxygen through lungs but depending on gills for elimination of carbon dioxide.
Larval forms and growth series are known for many temnospondyls. As a result, we know that larval temnospondyls, like most living salamanders, had external gills that disappeared in adulthood.

Mechanical support


Fore and hind limbs achieve a degree of mobility similar to that of modern salamanders, although some temnospondyls were much larger.

Pelvis robust with standard ilium, ischium and pubis, and single sacral rib.
Vertebral column well-ossified but displays distinct pleurocentra, intercentra, and neural arches. Intercentra are larger than pleurocentra.

Feeding:


Skull and pectoral girdle completely detached. Mobility of head increased by first two vertebrae specialized as atlas and axis.

Senses:


Most agree that the notch at the rear margin of the skull housed an ear drum rather than an open spiracle. In primitive forms, the hyomandibula/stapes seems to have been robust and thus unsuited to sound transmission whereas in others it is comparatively slender.


It is only at this level in stegocephalian evolution that we can firmly say that we are dealing with a group containing animals that could routinely make prolonged excursions out of water. Still, depositional settings make it clear that even adults of many temnospondyls were primarily aquatic animals.

Each group has specific synapomorphies with which we needn't concern ourselves here. Many, however, involve the loss or non-differentiation of dermal bones of the skull. Compare the crania pictured above with that of Doleserpeton, a temnospondyl, to get the idea:

Lissamphibia: The living amphibians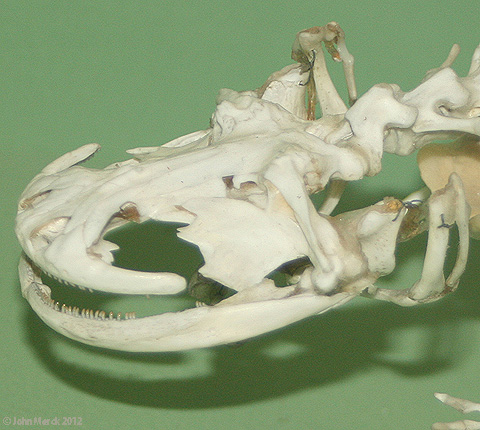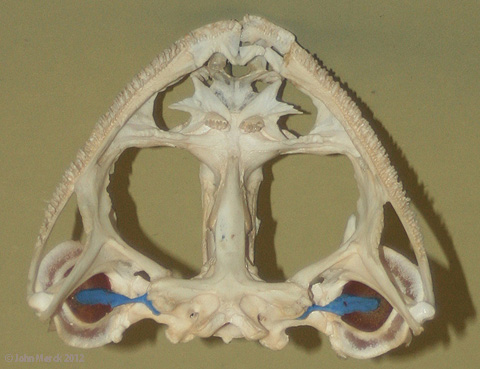 Rana catesbeiana
, the bullfrog (left) in palatal view (stapes in blue);
Cryptobranchus allegheniensis
, the hellbender (right)
Doleserpeton
, a derived temnospondyl.
Ruta et al. (2003)
reconstruct Lissamphibia as the sister taxon of derived temnospondyls like
Doleserpeton
(Permian) above. Some potential synapomorphies of Lissamphibia and derived temnospondyls are clear:
Potential synapomorphies of Lissamphibia:
Diversity
:
Albanerpetontodae (Jurassic - Neogene)
Gymnophiona (Jurassic - recent) the caecilians.

Anura, (Triassic - recent) the frogs

Caudata, (Jurassic - recent) the salamanders.
Dermophis mexicanus
from
Wikipedia
Gymnophiona
: Early Jurassic - Recent. Commonly called caecilians.
Morphology:


Living gymnophionans are elongate, limbless, superficially worm like forms that are either aquatic or fossorial (burrowing.)

Earliest fossil - Eocaecilia (Early Jurassic) has small limbs.
The skull, although missing many bones, is compact and strong, for use as a digging impliment.
The eye sockets are greatly reduced, and the eye is often covered by a layer of skin.

A unique sense organ, the tentacle, protrudes slightly from below the eye. The tentacle can be extended slightly. (In some, the eye and tentacle are consolidated such that the eye can be made to protrude like that of a surprised Loony Toon character.)

Reproduction: Two general strategies, but each involves large yolk-rich eggs. Fetilization is internal. Males have intromittant organ called the phallodium, whose homology to the amniote penis is unknown.


Ovipary: Large eggs laid in water or moist soil, and often protected by mother.

Ovovivipary: Eggs retained in oviduct, however young remain in oviduct for some time after hatching, where they feed on secretions of the oviduct or by scraping epithelium from its sides. Indeed, some possess special deciduous teeth for epithelium scraping. Some, in addition, develop leaf shaped gills which obtain oxygen from the mother.
After birth, some caecilians feed their offspring on special thickened skin.
Albanerpeton
sp. from
http://magyardinoszaurusz.hu/
Albanerpetontidae
: (Jurassic - Neogene) A minor group of extinct lissamphibians. Distinguished by features of cranial osteology, including non-pedicellate three-cusped teeth. Resembling scaly salamanders. For us, their important role is to remind us that the loss of scales in Amphibia only occurred inside Lissamphibia. Thus, we should not assume, as many artists do, that ancient amphibians had naked skin like that of frogs and salamanders.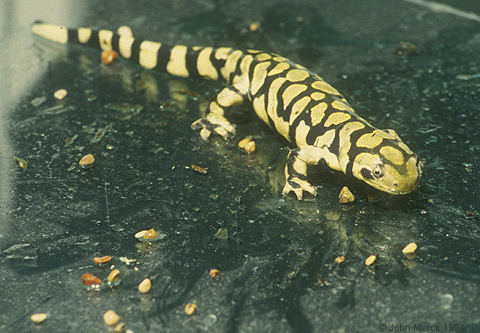 Ambystoma tigrinum
the tiger salamander
Caudata
- Salamanders: Late Jurassic - Recent
Morphology: Resemble basal fossil temnospondyls in range of general proportions. Some are fully aquatic. Of these, some retain gills while others become air breathing adults. Some are adapted for excursions out of water or adult life in moist habitats like leaf litter. In all cases, they live in moist environments. Salamanders have lost dermal skull bones in addition to those absent in ancestral lissamphibian.
Earliest known salamander: Chunerpeton - Middle Jurassic.


Mating

Plethodon shermani

Reproduction:

More primitive salamanders mate in water, and eggs are fertilized externally.

Some derived members employ spermatophores that the male deposits and the female picks up.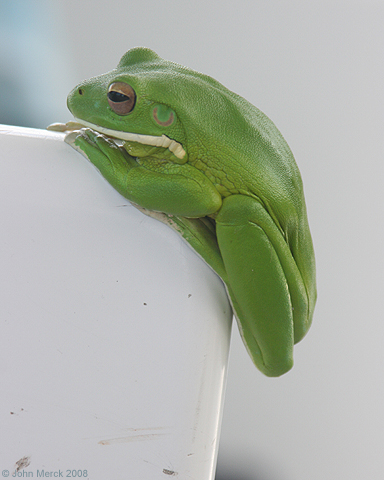 White-lipped tree frog -
Litoria infrafrenata
Anura
- frogs:
Morphology: Highly derived for unusual form of leaping locomotion. These synapomorphies associated with this appear early, as shown by the Jurassic Vieraella. However the oldest known frog, Triadobatrachus (Triassic) lacked many of them.




Megophrys montana

- Asian horned frog

Nine or fewer presacral vertebrae.

What tail vertebrae are present appear as an unsegmented rod, the urostyle.

Tibia and fibula, radius and ulna fused.

Rather than merely being a small water breathing version of the adult, the frog larva or tadpole is radically different in appearance and ecology from the adult.




Ascaphus truei

from

Wikipedia

Reproduction:


Mating is by amplexus, in which male grapples onto female and holds on for up to 24 hours, inducing ovulation. This is followed by external fertilizaton of eggs (typically laid in water or moist environment.


Ascaphidae or tailed frogs (right), the most primitive group, uses internal fertilization. The "tail" is an intromittant organ.

A great variety of brooding strategies practiced by some frogs include incubation of tadpoles in female pouches, mouth brooding, and stomach brooding.
Of these, Caudata and Anura are closest relatives.
Caudata and Anura are united by several synapomorphies, including:
A cartilagenous element, unfortunately called the operculum, that couples the stapes to the fenestra ovalis.

The complete loss of fishy scales and reliance upon cutaneous breathing. (Indeed, in plethodontid salamanders, no lung is present and adults breathe entirely through the skin. This opens up some interesting feeding strategies.)
Take-home message: We may sometimes refer to lissamphibians as "primitive" with respect to amniotes, but they are highly evolved. There is no living tetrapod that even begins to resemble the last common ancestor of Tetrapoda.
Next week we will discuss several biological issues of Amniota. For now, we introduce the group to facilitate our discussion of Tetrapoda generally.
An evolutionary conundrum: This tetrpod overview has highlighted reproduction to set up a question: In Sarcopterygii ancestrally, was fertilization internal or external? Examination of cladogram shows the optimization of the character to be ambiguous.
Stevenson Memorial by Abbott Thayer from
Wikipedia
Test of Homology
Of course, an alert observer would object to the last point. Spermatophores clearly don't
look
homologous with phallodia and penises and the latter two may not be homologous either. Having said that, though, how do we really know it? Cladists rely on
three tests to falsify hypotheses of homology
:
Similarity: The homologies of two structures can be doubted if it can be shown that they are significantly dissimilar. E.g. the wings of birds and insects.

Congruence: The hypothesis of homology can be falsified by showing, through a phylogenetic analysis, that the structures must have had independent origins. Thus, the wings of birds and the wings of bats are non-homologous AS WINGS, because they evolved from a precursor, the tetrapod forelimb, that was not used for flight.

Conjunction: If two potentially homologous structures are both found in the same organism, they can't be direct homologues. E.g. We consider human arms and bird wings to be homologous as tetrapod forelimbs, but that homology could be rejected if an actual angel, having both, were to be scientifically described. (As featured in The Simpsons)
BTW, I have listed these tests in order of increasing strength. We would, for instance, reject the homology of the angel arm and wing, no matter how similar they looked.