Monsters of Homology II: Archosauria and the folly of counting on fingers
Who are the archosaurs? There are two major node-based groups.
Crurotarsi: Includes the archosaurs more closely related to crocs than to birds.

Avemetatarsalia: Includes the archosaurs more closely related to birds than to crocs. Includes living birds and extinct dinosaurs and pterosaurs.
As their names indicate, synapomorphies of these groups have to do with features of their ankles and feet. Interesting because these features predispose members of both groups to evolve toward erect posture. At right: Crurotarsan (left) and avemetatarsalian (right) ankle schematics highlighting two proximal tarsals, the
astragalus
(A) and
calcaneum
(C).
In the case of Crurotarsi the calcaneum (heel) takes the form of a lever for the rotation of the foot on the shin. That action works most efficiently when the stance is more nearly erect.
In avemetatarsalians, the ankle joint is linear and there is no calcanea lever.
Crurotarsi took over land ecosystems during the Middle and Late Triassic only to suffer greatly in the Late Triassic extinction event, with only the lineage that gave rise to Crocodylia surviving.
Crurotarsan superlatives:
Smilosuchus
Phytosauria
: (Late Triassic)
Fresh-water aquatic predators, superficially similar to living crocodilians, but different in detail. Locate the nares here, for instance.

Ornithosuchus
by D Bogdanov from
Wikipedia
Ornithosuchidae
: (Late Triassic)
Big predators.

Typothorax
by
ahless28
Aetosauria
: (Late Triassic)
Archosaurian herbivores with small heads and toothless upturned snouts.
Most early archosaurs had two rows of bony scutes (sales with bony cores) down their back. In aetosaurs, these were expanded into extensive armor, with additional rows along the sides and belly. In some genera, the side rows bore impressive spikes.
Fasolasuchus
by
Kahless28
"Rauisuchian-grade" crurotarsans
: (Middle - Late Triassic) A paraphyletic group of top terrestrial predators of the Late Triassic.
2.5 - 7 m. long.
Members achieved fully erect stance and striding walk by angling the hip socket downward. (Compare to the method used by dinosaurs and mammals.

Indeed, Chirotherium, a common Late Triassic ichnotaxon (trackway form), is attributed to "rauisuchians." Whoever made it was clearly standing perfectly erect.

Extinction The terminal Triassic really was the end of an era. For the last 30 million years, rauisuchians, aetosaurs, and various non-archosaurian archosauromorphs had ruled the roost, (accompanied by occasional small mammal-like cynodonts, dinosaurs, pterosaurs, and the first turtles.) Then came a significant extinction event. The precise cause is not known, although the Central Atlantic Magmatic Province (CAMP), a first-class flood basalt associated with the opening of the Atlantic Ocean dates from that time.
From Crurotarsi, only Crocodylomorpha survived:
Pseudhesperosuchus
Crocodylomorpha
: (Late Triassic - Recent) Animals more closely related to Crocodylia than to any rauisuchian-grade crurotarsan. Although living members are large freshwater predators, the earliest forms were small, long-legged, and terrestrial like
Pseudhesperosuchus
(Late Triassic).
Avemetatarsalia
(Triassic - Recent): Archosaurs more closely related to birds than to crocodilians. The primary avemetatarsalian groups are speciose and enduring, with great significance for the history of science:
Pterosauria: (Triassic - Cretaceous) The flying reptiles of the Mesozoic
Dinosauria: (Triassic - Rec) The dominant land vertebrates of the Jurassic and Cretaceous, but which includes Aves, the birds, who continue to the present.
Outside of these groups, the fossil record of Avemetatarsalia is limited to a small handful of revealing creatures.
Synapomorphy - the naive 20th century view
: The ankle joint runs between the proximal and distal tarsals (right). (In contrast to the "crocodile-normal" setup in Crurotarsi (left) in which the calcaneum rotates around a peg in the astragalus.)
Sigh. Life used to be simple, then facts intruded in the form of new animals like
Teleocrater
. It shares subtle technical characters with more derived members of the bird stem, but it's ankle is crocodile-normal! That, apparently, is the plesiomorphic arrangement for Archosauria.
But that doesn't alter the central biomechanical theme of this group's evolution - the functional decoupling of fore and hindlimb function for bipedalism or powered flight. This functional decoupling enabled the fore and hindlimbs to evolve into different forms.

Sceromochlus taylori
by T-PEKC from
DeviantArt
A handful of small (mockingbird - bluejay sized) basal avemetatarsalians are Late Triassic (but pre-extinction event) age and give a general picture of the ancestral state for members of this group:
Scleromochlus: (right) Very small with long limbs, disparate fore and hind limb length, and a very large head, either the basal member of Avemetatarsalia or the sister taxon of pterosaurs. Recent analyses suggest it might have been adapted for leaping.


Marasuchus

by Paleoaeolos from

Deviant Art

Marasuchus (Lagosuchus of some authors) Also tiny (right), represents a handful of creatures that were closer to dinosaurs than to pterosaurs.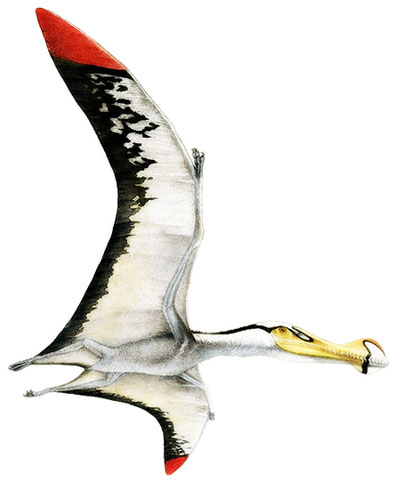 Pterosauria: Flying reptiles of the Mesozoic. NOT BIRDS. NOT DINOSAURS.

Synapomorphies:
Elongate finger - generally thought to be the fourth

Pteroid bone - generally thought to be a specialized carpal
Both synapomorphies were for support of the
wing membrane
.
The membrane stretched from tip of finger either to torso or to hind limb. The wing was radically unlike that of either a bat or a bird in terms of skeletal structure.




In birds, the distal caprals, metacarpals and phalanges of digits I, II, and III fuse to form a support for flight feathers.





In bats, digits II through V are elongate and support a flexible membranous wing.

Histology of wing surface
: Unlike the bat wing, which is essentially normal skin, the pterosaur wing is covered with dense
parallel fibers
(probably collagen). Rather than stretching like the membrane of a bat wing, this surface more likely folded like a collapsable fan. The wing membrane was also invested with this slips of muscle.
Pterosaurs are known from Late Triassic through the end of the Cretaceous and on all continents except Antarctica (they are probably there too). Best finds from are from:
The Late Jurassic of Germany (same time and place as Archaeopteryx, the first known bird-like theropod dinosaur)
The Early Cretaceous of China
The Middle Cretaceous of Brazil.
"Note on the Pterodactyle Tribe
Considered as Marsupial Bats" 1843,
by E. Newman from
Strange Science
Since there is no living analog to pterosaurs, and since in many cases their anatomy is poorly known, it is difficult to know how they lived
. Indeed, mid-twentieth century paleontologist Alfred Romer declared them to be the most enigmatic of fossil vertebrates. Certain issues, however, are coming into focus:



Anurognathus

from

Wikipedia

Active metabolism and flight: The body proportions of pterosaurs are generally similar to those of actively flying birds. Although some pterosaurs are very large and probably adapted for soaring, in the manner of modern pelagic birds, most are small, E.G. the wide-mouthed nightjar mimic Anurognathus, well within the size range of modern birds.

The flight apparatus of pterosaurs indicates the presence of powerful, bird-like flight muscles. Indeed, the pterosaur sternum (breast-bone) was similar to that of a bird in size.




Sordes pilosus

Fur? We now have pterosaurs including Sordes and Jeholopterus whose fossils seem to be covered with a fur-like integument. Note: Just because it looks superficially like fur does not mean that it was histologically identical. The congruence test definitely tells us that it could not be homologous with the fur of mammals. Because they are non-homologous, these structures are termed pycnofibers. Nevertheless:

If its function is analogous, then it would appear that pterosaurs were actively seeking to prevent heat exchange with the environment, not promote it, as cold-blooded creatures do.
Could pycnofibers be homologous to feathers? That is more ambiguous.

This is not surprising when you consider that most pterosaurs were small animals upon whom the requirements of flight placed high energy demands. Heat loss must have been a danger. This discovery cast doubt on whether pterosaurs were cold-blooded at all.

Evolutionary trends: During pterosaur evolution, various groups have developed many interesting features. In this review, we sample a very primitive and a rather derived pterosaur.

Sordes pilosus
by D. Bogdanov from
Wikipedia
Sordes:
(Late Jurasic) represents the primitive condition. Like it, many other basal pterosaurs had
short necks

short wrists

long tails, with rudders at the ends.
rear membrane stretched between legs and supported by specialized fifth digits. Soles of feet point medially. The tail is free of the membrane.
Although paraphyletic, it has sometimes been convenient to refer to this grade-group as "rhamphorhynchoids."
Pterodaustro
by m Shiraishi from
Jurassic Gallery
Pterodactyloids:
(Late Jurassic - Cretaceous)

Pterodaustro (Cretaceous): Has many characters acquired in the general course of pterosaur evolution that characterized the monophyletic Pterodactyloidea:

long neck

short tail

long wrists

small to extremely large size. Indeed, Quetzalcoatlus, the largest known flying animal (or was it?) was a pterodactyloid.

Unique scapular attachment to the axial skeleton. In large pterosaurs, whose wings bore all of their body weight while flying, an energy saving strategy was developed: The Notarium. This allowed the axial skeleton to be supported effortlessly by the pectoral girdle.
Conquest of the ground: No known pterodactyloid has a uropatagium stretched between its hindlimbs. Moreover, all known pterosaur trackways seem to have been made by pterodactyloids. Perhaps, "rhamphorhynchoids" didn't get around well on land. From trackways and biomechanical models, we have a good idea of the stance that pterodactyloids would assume on the ground. (Earlier notions of sprawling or bipedal pterodactyloids are obsolete.)
Taking off: How pterosaurs launched themselves from a flat surface is a hot topic currently. Arguably, "rhamphorhynchoids" couldn't, but instead dropped from a high perch, bat-style. Pterodactyloids are thought to have used their forelimbs to vault into the air.
Link
to a composite comparison of the "rhamphorhynchoid" and pterodactyloid conditions.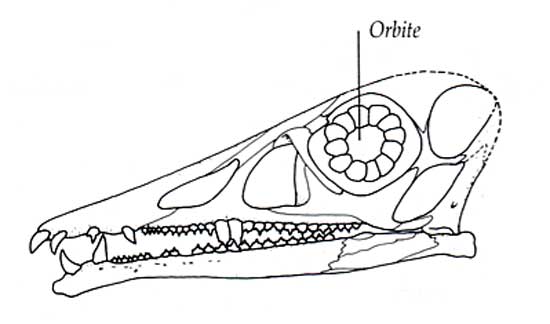 Eudimorphodon
, a "rhamphorhynchoid" from
Dinopedia
(left)
Tropeognathus
, a pterodactyloid from
Paleofile.com
(right).
Pterodactyloid skulls are also highly derived with respect to "rhamphorhynchoids."
Nares become confluent with antorbital fenestrae.
In many, teeth are reduced
Many develop elaborate crests or cranial ornamentation. (E.G. Pteranodon, Tapejara, and the extreme Nyctosaurus.)

Darwinopterus
by from
Impact Lab
Throughout the history of pterosaur research, the morphological gulf between rhamphorhynchoid and pterodactyloid pterosaurs seemed unbridgeable.
Suddenly in 2009
we learned of a true intermediate:
Darwinopterus
, a creature with the head and neck of a pterodactyloid and the legs and tail of a rhamphorhynchoid. A good example of
mosaic evolution
, in which one part of the body evolves faster than others.
Monsters of homology: There is a problem with our understanding of pterosaurs, however. The actual identity of the elements of the hand and wrist are debated. The debate focuses on the question of what happened to digit V?
Scenario I: The long wing-bearing digit is digit IV, and the pteroid bone is a modified carpal.
Scenario II: The long wing-bearing digit is actually digit V, and the pteriod bone is metacarpal I - the metacarpal of the first digit.
Scenario III: The pteroid bone is a new derived element and has no bearing on the identity of the fingers.
In any scenario, pterosaurs are missing a manual digit. For a review, see
Unwin et al. 1996
. This problem foreshadows an even bigger problem with digit homology in dinosaurs.
And now for what you have yearned for...Dinosaurs!
Dinosauria: (Triassic - Recent) The most recent common ancestor of Megalosaurus and Iguanadon, the first known dinosaurs, and all of its descendants. In this course, we will not address dinosaurs in any depth, but we do note the following:
Eoraptor lunensis
by Charlie McGrady from
CM Studio
Ancestral state
: The earliest and most phylogenetically basal dinosaurs were bipedal and small - (turkey - beagle sized). E.G.:
Eocursor (Late Triassic) - an ornithischian
Saturnalia (Late Triassic) - a sauropodomorph saurischian
Eoraptor (Late Triassic) - a theropod saurischian (right)
Indeed, Dinosauromorpha (Triassic - Recent) - the clade containing critters closer to dinosaurs than pterosaurs - is populated at its base by roadrunner-sized bipeds like Marasuchus and Lagerpeton (Late Triassic). Thus, it whas long assumed that the last common ancestor of dinosaurs was a small biped. Imagine our surprise in 2003 when Silesaurus (Late Triassic) - a retriever-sized quadruped - was described and found to be represent the sister group of Dinosauria. After this description, many unidentifiable remains in museum drawers were found to belong to related animals, such that Silesauridae is now a speciose group. But of dinosauromorph diversity, only proper Dinosauria survived the Terminal Triassic extinction event.

Huayangosaurus
from
Terakoshi.com
Ornithischia: (Latest Triassic/Earliest Jurassic (?) - Recent) Plant eating dinosaurs, including:
Armored dinosaurs (E.G. Huayangosaurus right and Edmontonia)
Saurischia (Triassic - Recent) which breaks down into:
Plateosaurus

by

Raul Martin

Sauropodomorpha: (Triassic - Recent) Long necked plant eaters, such as Plateosaurus (right) and Supersaurus.



Sinosauropteryx

by

Julius Csotonyi

Theropoda: (Triassic - Recent) Bipedal predators large and small such as:
Sinosauropteryx (right)
Caudipteryx (note, feathers are real in all cases)
Chronology:


For about forty years, dinosaur biology has been the subject of contentious, unusually public, and often irrational debate centering on activity levels and thermal metabolism; but often conflating this with such issues as origins of flight or the position of birds within Dinosauria. We bypass it for the moment, noting that similar debates have raged (at saner volume-levels) about the other major avemetatarsalian group: Pterosaurs. One observation: We see both fully developed feathers and tubular feather-like fuzz in bird-like theropods, but also stiff tubular bristles in small ornithischians. Maybe the last common ancestor of dinosaurs had some kind of insulating body coating. Could feathers be homologous to pterosaur pycnofibers? Stay tuned!



Phylogeny headache:
It used to be so simple. From the 19th Century forward, dinosaur workers acknowledged two major clades:
Saurischia had two components:
Sauropodomorpha Long-necked dinosaurs
Theropoda Scary bipedal carnivorous dinosaurs. (Birds go here)
People debated whether Dinosauria was monophyletic, but no one questioned Ornithischia and Saurischia. But the problem: There are no unambiguous Triassic ornithischians. Why, if they are the basal branch?


Then came 2017, a year of confusion.
Agnolin and Rozadilla, 2017. Proposing that we are not seeing Triassic ornithischians because we wrongly think they are silesaurids! Not crazy. Silesaurids share some features with ornithischians.


Barron et al., 2017. Plausibly proposing that Ornithischia is the sister taxon of Theropoda - the Ornithoschelida hypothesis. Yuck. Several synapomorphies proposed. A conspicuous example: Both groups have fossil members with fuzzy or bristly integument. (See for an ornithischian and a theropod.) So not crazy.
Yikes. Imagine a strict consensus of these three hypotheses.

From
Plesiosauria.com
Monsters of homology: Counting theropod fingers
This is a fundamentally different type of monstrosity. To compare:
Duplication: In discussing euryapsids we mentioned in passing that when you start multiplying elements like phalanges (right) or cervical vertebrae, keeping track of traditional homology becomes meaningless. For example, the various phalanges of digit I in the derived plesiosaur D each, in a way, partake of the identity of the single digit I phalanx of the ancestral eosauropterygian A, even though they all fail the conjunction test. What remains homologous is the developmental process by which phalanges are generated.
Identification: In discussing snakes, ichthyosaurs (right), and pterosaurs we encountered the problem of there being no test of homology, even similarity, that we could use effectively to get at the identity of certain elements.

Shifting identities: The hands of theropod dinosaurs pose a new and different challenge. Background: Generations of paleontologists have recognized a trend in theropod evolution toward the reduction of fingers. Consider:
Alligator: a crurotarsan.

Herrerasaurus: an ancestral theropod.

Coelophysis: an early theropod.

Velociraptor: a derived theropod.

Columba: a bird.

It seems so clear: Theropods go from a five fingered hand to a three fingered hand by the sequential loss of digits V and IV, whereas digit I is specialized and readily recognizible as a thumb.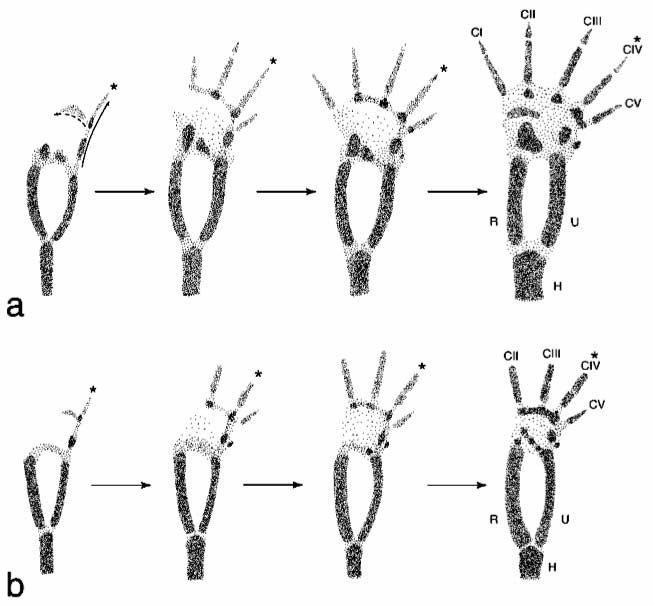 from

Talk.origins

Now the monstrosity:

Remember the developmental sequence of endochondral bone:
Mesenchyme cells clump together as condensations
Cartilage is laid down at the sites of the condensations
The cartilage is then ossified into bone.
Now consider:
Cleared and stained specimen A shows the condensation sequence of normal tetrapod fingers in an alligator. We note: The first condensation is digit IV, followed by digits V, III, II, and I.
The ostrich (B) shows four digits. Digit V never chondrifies, but digit I never condenses at all, leaving digits II, III, and IV as ossified fingers in the adult. And yet the fossil record has been telling us that birds have digits I, II, and III. WTF?

Can it be that the identity of digits is totally different in birds and theropod dinosaurs?

The discovery of this discrepancy in the late 1990s gave rise to two general responses:
To opponents of the idea that birds are theropods, it was a vindication, suggesting that the similarity between the bird and theropod hand (including the specialized thumb) was convergent and not synapomorphic. (Ignoring the fact that phylogenetic analyses place birds within theropoda even if you remove hand characters.) Creationists have jumped on this band-wagon.

Paleontologists (notably Wagner and Gauthier, 1999) and developmental biologists reacted with a more far-reaching idea: That a "frame shift" had occurred in which the developmental identity of digit I had been switched to the mesenchymal condensation that would typically become digit II. This frame shift, they argued, was analogous to the issues of identity surrounding euryapsid phalanges or snake vertebrae. In the absence of positive evidence, that idea was a big stretch that met with much skepticism, but not crazy.
Vindication: Limusaurus inextricabilis, 2009: A moderately basal theropod (more derived than Coelophysis, less derived than Velociraptor) came to light with what almost looks like a three-fingered hand, complete with a specialized thumb, except that a small metacarpal I is also present, but not part of the "thumb" digit. This is entirely consistent with what we would expect from an animal at an evolutionary stage at which the "frame shift" was in progress. The identity of the thumb has been transferred to mesenchymal condensation II, but condensation I still becomes slightly ossified.
The strange lesson: You can't assume that the homologies you identify at one developmental stage of an element will be transferred to the next developmental stage. The pattern-generating mechanisms of development might actually shift!
As mesenchyme, birds and three fingered theropods seem to have elements homologous to condensations for digits II, III, and IV.
As fully formed bones, these elements are homologous to digits I, II, and III.
The issue remains controversial, but it appears that homologies are developmentally fluid!