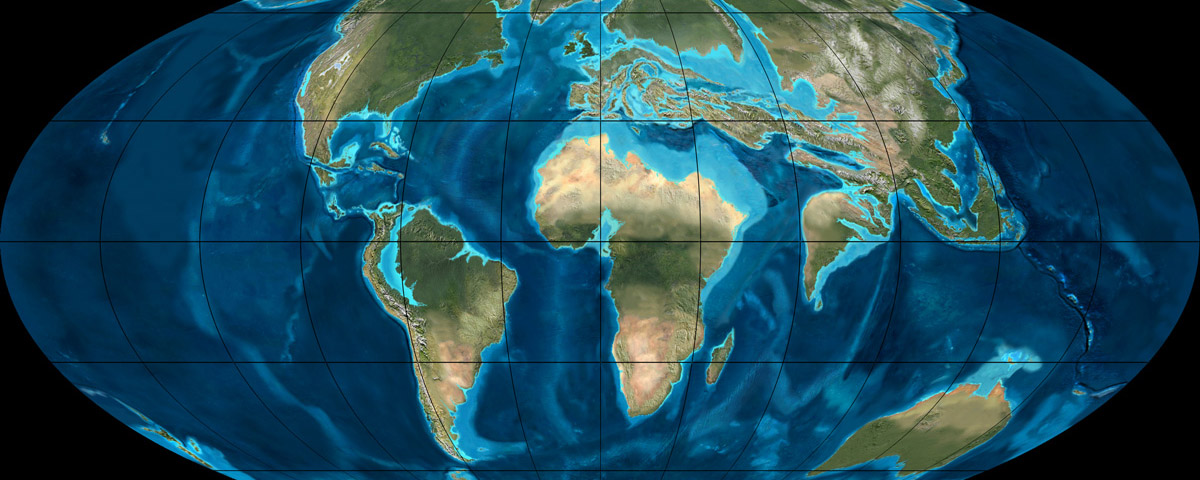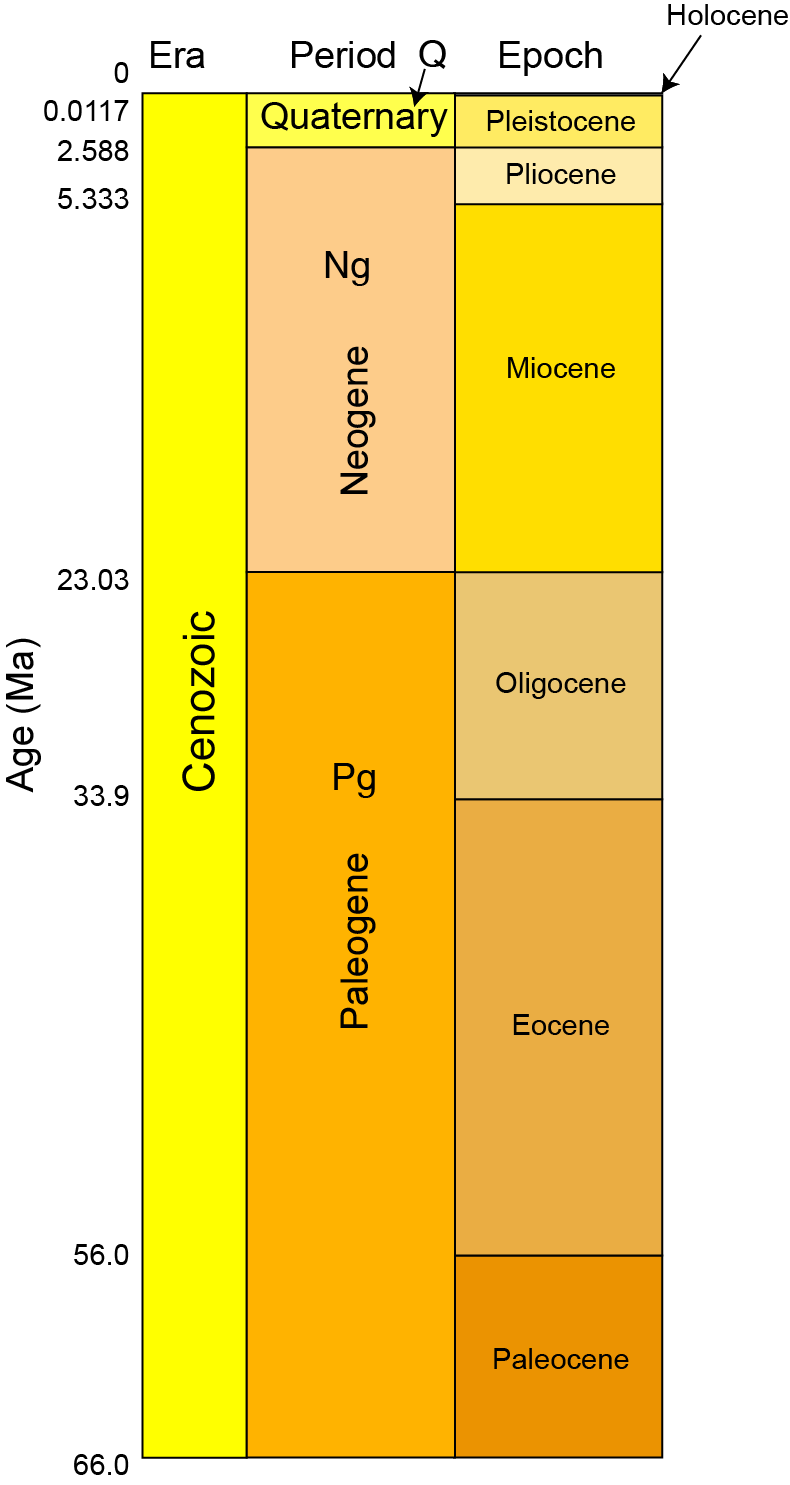 Phanerozoic Eon: 541.0 - 0 Ma
Although stratigraphers agree upon the names and dates of the Epochs of the Cenozoic, there has historically been considerable disagreement on the Periods of the Cenozoic:
American (Traditional) 2-Period Model (still used by US researchers who haven't been paying attention...):
European 2-Period Model (until 2007 the formal, internationally-recognized model):
Hybrid 2-Period Model:

Quaternary Period (comprising Pleistocene & Holocene)
Tertiary Period

Neogene Sub-period (comprising Miocene & Pliocene)
Paleogene Sub-period (comprising Paleocene to Oligocene)

3-Period Model: The Current Official Version of the International Commission on Stratigraphy:

Quaternary Period (comprising Pleistocene & Holocene)
Neogene Period (comprising Miocene & Pliocene)
Paleogene Period (comprising Paleocene to Oligocene)
This is the version shown in the graphic above. The "Quaternary" is formally reinstated as a "Period" that contained the Holocene and Pleistocene (and the latter has absorbed what was formerly the last stage of the Pliocene!) This follows an unsuccessful bid to create a "Quaternary Sub-Era". The "Tertiary" thus remains in limbo.
---
Paleogene Geology
Cenozoic is by FAR the best known Era, representing only 1.4 % of Earth History, yet the most commonly encountered rocks on the Earth's surface and on the sea floor.
Paleogeography and Geology of the Paleogene:
Paleocene-Eocene: continuation of Laramide Orogeny in Cordillera (began in Maastrichtian, Late Cretaceous). Uplifted blocks and down-dropped basins in central west (Utah, Colorado, etc.): very large lake deposits of oil shales. Beginning of Yellowstone volcanism (a mantle plume underneath the American West)
Last epicontinental sea of North America (Cannonball Sea) in Paleocene: interior of continent has been fully emergent since then.
Paleocene-Eocene climates very warm, comparable to Cretaceous.
The Paleocene-Eocene Thermal Maximum:
Short term (<10 kyr) temperature increase of greenhouse gas levels by 3-4x
Surface ocean temperatures rose by some 5-8°C in the equator and mid-latitudes, and higher at the poles
Bottom water temperatures rose about 5°C
Air temperatures on land rose by 5-7°C
Precipitation and runoff from the land increased, which is part of why clays became so much more common in the marine cores
Strong ocean acidification, reducing the amount of plankton contributing to the marine sediments (the other reason clays become so common in the marine cores: fewer non-clay stuff) but also ravaging the shallow marine communities
Extinction of between 35-50&percent; of the benthic foram species
Decline or extinction of many primitive mammal groups, and arrival of some groups (notably more modern primates, more modern perissodactyls (odd-toed hoofed mammals, such as proto-horses, proto-rhinos, and proto-tapirs), and artiodactyls (the even-toed hoofed mammals, the group that would later contain pigs, deer, antelope, giraffes, and [amazingly] whales) in Europe and North America
A 2-3x increase in the amount of insect damage observed in fossil leaves during the CIE interval.
For a few kyr, dwarfing of terrestrial animal species
High polar temperature allows spread of animals once isolated: artiodactyls (even-toed ungulates), perissodactyls (odd-toed ungulates), and advanced primates (possibly originating in India) spread across Asia, Europe, and North America
Likely due to a major degassing of methane hydrates, triggered by a deep-sea flood basalt event at the breakup of the northeastern Atlantic (the Greenland-European split)
Also coincides with a major regressions: perhaps oxidation of marine muds in exposed epeiric seas added to carbon dioxide
Dramatic temperature drop during late Eocene:
Extremely fast (less than 100,000 years)
Drop in bottom water of 4° - 5°C; bigger changes on surface
Generated by the break up of Antarctica from Australia, forming circumpolar current and very cold bottom water - First Antarctic glaciers
Causes major changes to marine and terrestrial communities: an important extinction event of mammals, forams, coccolithophorids. For mammals, called the "Grande Coupure" (big break): replacement of many native European and North American clades with more specialized Asian ones
Shift from wet forests to dry woodlands in North America and Europe
Late Eocene/Early Oligocene: rifting of Atlantic separates Laurentia from Europe and Greenland from North America (end of Laurentia proper). Asia and North America remain physically connected by Bering Land Bridge (periodically emergent or submergent)
During Late Eocene: Chesapeake Bay impact:
Large asteroid mass hit eastern North America
Crater was later covered by Oligocene and Neogene coastal sediments, but subsurface crater structurally controlled groundwater flow from then on
Starting in the Eocene, and continuing into the Miocene, the Alpine Orogeny:
Microplates, formerly part of northern Africa, raft across Tethys to collide with then-southern Europe
These microplates represent the modern southern European regions (Italy, Greece, etc.)
Collision of these microplates caused major small-scale folding, called nappes
Later (Miocene) northward migration of Africa generates the Atlas Mountains and closes off the Mediterranean
Deposition of The Flysch and The Molasse (after which these lithological associations are named)
Late Oligocene: as Laramide Orogeny ends, extensive erosion of upper surfaces of Cordilleran Mountains and infilling of intramontane basins.
Throughout late Paleogene: Andean Orogeny (actually begins in Late K and continues to today) and earliest stages of Himalayan Orogeny.
---
Marine Life of the Paleogene
Recovery from K/Pg extinction event. Coccolithophorids survive, but never recover old diversity. Foraminiferans, however, radiate greatly.
Nummulitids: giant disc-shaped forams common in the Eocene to Miocene of the Tethys.
Seagrass radiation in the Eocene: not true grass, but a marine (the ONLY major marine) group of angiosperms, with representatives possibly going back to the mid-Cretaceous (c. 100 Ma). In Eocene, however, spread across coastlines of world. They become a major habitat, and a major sediment-trapping source. Also, they represent the first case since the loss of the shallow algal films that photosynthesizers represent a large cover on the sea floor.
Scleractinian reefs begin again in latest Eocene, with switch to aragonite seas.
Sand dollars (VERY irregular echinoderms): evolved from sea biscuits (typical irregular burrowing echinoids). Evolution of sand dollars (Clypseasteroidea) was fairly rapid (during Early Eocene).
Giant predatory sharks (and shark radiation in general): some forms (up to 14 m long) replace the vanished marine reptiles as the top predators in the sea.
Continued diversification of teleosts. During Early Eocene, huge radiation of spiny-finned (acanthomorph) teleosts, including the perch family.
First penguins.
Origin of several lineages of marine mammals:
Whales (Cetacea):

Marine members of the even-toed hoofed mammals (artiodactyls), closest living relatives are hippos
Descendants of hoofed carnivores
Arose in Eocene
Early whales still capable of coming on land
Ancestrally were fish eaters; planktonivory arose in Neogene
Most fully aquatic of all marine mammals: deepest divers, found out in deep water, etc.

Manatees & sea cows (Sirenia):

Marine ungulates, closest living relatives are elephants
Also arose in Early Eocene
Sea grass eaters, fully aquatic but stay in shallow water

Desmostylians (Desmostylia):

Marine ungulates, close relatives of sirenians and elephants
Known only from Late Oligocene and Miocene of the northern Pacific Rim
Could come on land to breed (like pinnipeds)
?Plant eaters.
---
Terrestrial Life of the Paleogene
Radiation of freshwater teleosts during Eocene.
Appearance of freshwater diatoms.
Paleocene floras very similar to Cretaceous, but angiosperms become the dominant group. Widespread broadleaf forests around much of the world.
Mammals of the early Paleogene were considerably more primitive than their modern relatives. Tended to have:
Smaller brains
Shorter, stumpier legs
"Flat-feet" (did not walk on toes)
During Eocene, establishment of the major radiations of mammals. Different continents dominated by different groups:
Australia: Marsupials dominate as carnivores and herbivores, some monotremes, also some large terrestrial predatory reptiles. Remained isolated from other continents throughtout Cenozoic
South America: Marsupials present, common as carnivores and as omnivores. A unique radiation of endemic South American placental ungulates [hoofed mammals] common as herbivores (including first open grassland grazers in Oligocene). Xenarthran mammals (ground sloths, anteaters, glyptodonts and armadillos) common. Giant flightless predatory birds common in Neogene
North America-Eurasia-Africa (the "World Continent"): Placentals are the only major group of mammals, as carnivores, omnivores, or herbivores. Giant flightless predatory birds and land-dwelling crocodilians in Europe and North America during Eocene, but replaced by carnivoran mammals
During Eocene and later, mammals tend to develop bigger brains, longer legs, and walk on toes.
Eocene sees first bats (flying mammals) and many marine mammal groups.
Also, major radiation of bird groups.
Major faunal turnover in late Eocene extinction: origination and diversification of many groups in North America; European fauna replaced by primarily Asian forms.
During the early part of the Oligocene: extinction of the multituberculates.
---
Some relevant videos:

---
To Lecture Notes.
Last modified: 18 January 2022