GEOL 104 Dinosaurs: A Natural History
Fall Semester 2006
Theropoda II, Coelurosauria: Tyrant Kings and Lesser Royals
Coelurosauria includes a wide diversity of forms, including omnivores, herbivores, and birds!
Coelurosaurs are characterized by:
Enlarged brain size compared to other dinosaurs
Narrow, three-fingered hand
"Boat-shaped" chevrons for extra tail stiffening
Tall ascending process of astragalus to absorb stresses of running
Long slender foot with compressed metatarsals
"Protofeathers": filament-like structures covering much of the body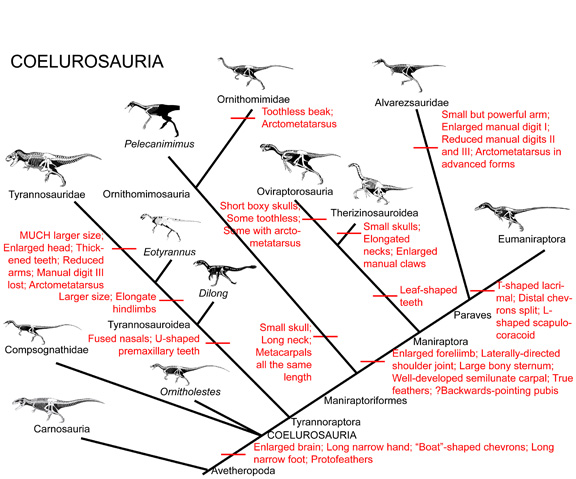 Coelurosaur interrelationships have been confusing, but there seems to be a growing consensus. Compsognathidae (less than 1.5 m long) and 2 m long Ornitholestes represent small basal coelurosaurs. The main clades of advanced coelurosaurs include Tyrannosauroidea, Ornithomimosauria, and the diverse Maniraptora.
Tyrannosauroidea (tyrant dinosaurs):
Characterized by:

Large skull size
Expanded area for jaw and neck muscle attachements
Incisor-like premaxillary teeth for nipping or scraping
Fused nasals

Tyrannosauroids begin as small-to-medium-sized predators in the Jurassic and Early Cretaceous. Best preserved so far is the recently discovered Guanlong of the Late Jurassic of China. Also of interest is Dilong of the Early Cretaceous of China (which has protofeathers preserved). Other examples inlcude Early Cretaceous Eotyrannus of Europe: larger-sized than Guanlong and Dilong, but still with long grasping three-armed hands. In the Late Cretaceous, become short-armed giants, including eastern North American Dryptosaurus and the true Tyrannosauridae:

Tyrannosaurids proper are characterized by:

Gigantic size (9-13 m long)
Maxillary and dentary teeth which are thick from side to side (not steak knife- like, as in most theropods)
Reduced forelimbs with only two fingers (digits I & II)
Very long tibiae and metatarsi (also in ornithomimosaurs, troodontids, and some alvarezsaurids and oviraptorosaurs)
An arctometatarsus:

Metatarsus where metatarsal III forms a wedge distally, but pinches out proximally
Shown to be a good shock absorber for fast running
Feet of closely related basal tyrannosauroids not completely known, so they may have had it, too
Also found in some ornithomimosaurs, deinonychosaurs, alvareszaurids, and oviraptorosaurs

Tyrannosaurids were the dominant predators of the Late Cretaceous of Asia and North America
Ornithomimosauria (name means "bird mimic dinosaurs", but often called "ostrich mimics" or "ostrich dinosaurs" because of their general similarity to ostriches in shape and size)
Similar to tyrannosauroids from the hips back, but very different in the front end!
Characterized by:

Very long necks and small heads
Long snouts with small teeth (in at least the primitive forms)
Long arms with metacarpals all the same length and hooking-and-clamping (rather than grasping) hands
Advanced clade of ornithomimosaurs: the Ornithomimidae:

Toothless beaks

Recent discovery of small jaw plates in ornithomimosaur beaks suggest some could dabble for food like ducks!

Arctometatarsus

Were probably fast running omnivores, eating small vertebrates, invertebrates, and plants
May have been the fastest Mesozoic dinosaurs
Known from the Early Cretaceous of Europe and Asia, and (for Ornithomimidae) the Late Cretaceous of Asia and western North America
Most were about ostrich-sized or larger, but some were small and one (Deinocheirus) was as big as Tyrannosaurus
Maniraptora ("hand snatchers") are characterized by:
Enlarged sternal plates
Increased forelimb length in most groups
Large semilunate carpal blocks:

Modified carpal bones with a pulley-like surface
Allowed their large hands to be tucked against the body

Shoulder joints that faced sideways rather than backwards (as in most dinosaurs)
True broad feathers on arms and tail of at least the small forms
Backwards-pointing pubis in many forms:

Evolution of this character is complicated. Ovirpatorosaurs, the primitive therizinosauroid Falcarius, and the advanced members of Troodontidae (a clade of deinonychosaurian eumaniraptorans) have a forward-pointing pubis; all remaining maniraptorans have a backwards-pointing one.
So there is definitely convergence, reversals, or both!
In therizinosauroids, may have functioned as in ornithischians (to increase gut space for eating plants)
In other maniraptorans, is more likley associated with changes in the arrangement of hindlimb muscles between the tibia, femur, pelvis, and proximal caudals (all of which are modified in these groups)
Maniraptorans are very diverse. The major clades are:
Oviraptorosauria

Had short boxy skulls that are toothless in all but the most primitive forms (which had either stout blunt pencil-shaped teeth and/or leaf-shaped teeth)
Were probably omnivores, eating both small vertebrates and plants
Found in many parts of the world in Cretaceous, but most common in Asia
Most were smaller than humans
Lots of varieties of oviraptorosaurs: some were short armed and long legged (often with arctometatarsus); others were long armed and rather short legged.

Therizinosauroidea

Sister group to Oviraptorosauria
Had long necks, prosauropod-like heads with leaf-shaped teeth
All but the most primitive genus Falcarius) had shortened tibiae and metatarsi and backwards-pointing pubes
Were almost certainly slow-moving herbivores, with big guts
May have defended themselves with powerful claws
Most were bigger than humans; one (Therizinosaurus) rivalled Tyrannosaurus in size and had 1 m long manual claws!

Alvarezsaurids:

Had very short arms with very large manual digit I and very small digits II and III
Skull and small tooth shape resembles primitive ornithomimosaurs
Pubis points strongly backwards and skull has joint in front of eyes as in avialians
Advanced forms had arctometatarsus
Known from South America, North America, Asia, Europe, and possibly Australia in the Cretaceous
Most very small: 1-2 m long
Diet uncertain: probably insect eaters. Their strong claw may have been used to pound into termite mounds.

Eumaniraptora ("true maniraptorans"): subject of next lecture.
To Next Lecture.
To Previous Lecture.
To Syllabus.
Last modified: 14 July 2006