Key Points:
•True multicellularity involves specialized cell types, the specialization of reproductive cells, and apoptosis.
•Possible multicellular eukaryotes may extend back to 2.2 Ga
•Multicellularity arose five times among eukaryotes.
•Porifera (sponges) are the most primitive grade of metazoan.
•There are three major poriferan taxa (Hexactinellida, Demospongea, Calcarea) and one oddball (Homoscleromorpha).
•There is no strong consensus on whether poriferans are monophyletic.
•The earliest potential sponge fossils are Ediacaran but geochemical evidence for them goes back to 1.8 Ga
•Several enigmatic Phanerozoic fossil groups are likely to be poriferans.

"Well, it's not secret that the best thing about secrets is telling someone else your secret, thereby adding another secret to your secret collection of secrets, secretly.
(SpongeBob Squarepants, Season 2, Episode 35a.)
Yellow slime mold from

Wikipedia

Most of the semester remaining will address the fossil record of Metazoa (animals.) Metazoans are one of five groups of multicellular eukaryotes to arise during the Neoproterozoic. Unlike simple cell colonies like Volvox or slime molds (right), each of these groups forms organized bodies in which:
Specialized cells perform specific functions
Body cells forego reproduction, leaving that task to specialized reproductive cells - gametes
Cells even engage in apoptosis - programmed cell death.
Critters of "slime-mold grade" (right) show the starting point of this transition, being independent cells that come together to produce fruiting bodies from which spores (haploid reproductive cells) are dispersed.

The earliest fossil evidence for colonial eukaryotes comes from the Proterozoic:

These were forerunners to the emergence of multicellularity during the Cryogenian among.
Rhodophytes
Viridiphytes
Phaeophytes
Fungi
Metazoa
For the rest of the course we concentrate on Metazoa and Viridiphytae.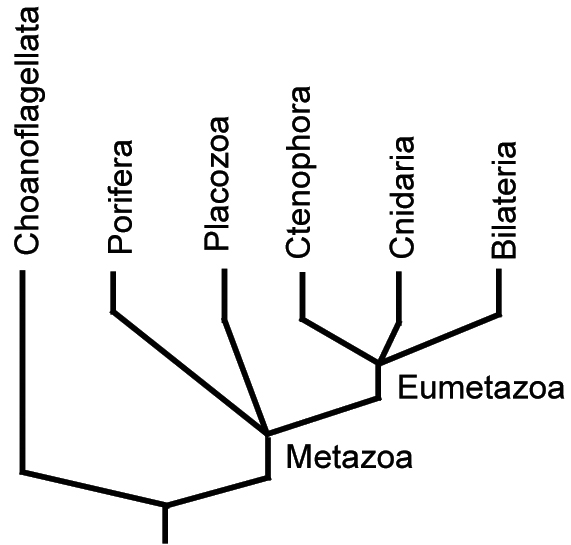 Metazoa
Five major groups form the main branches of its cladogram: The pattern of metazoan phylogeny is controversial. Results of molecular phylogenetic analysis are sensitive to the portion of the genome sampled (see Nosenko et al., 2013) The cladogram at right is a consensus. Ongoing controversy surrounds the positions of:

Porifera - the sponges:
(Ediacaran - Quaternary) The sponges represent the most primitive metazoan grade, lacking organs, with only the vaguest approximations of tissues, but possessing:
Specialized cell types
Cells that adhere in a regular body plan.
Signaling between cells
Interdependence. Indeed, sponge cells that have been mechanically separated can often coalesce into new sponges, but are unable to survive for long independently.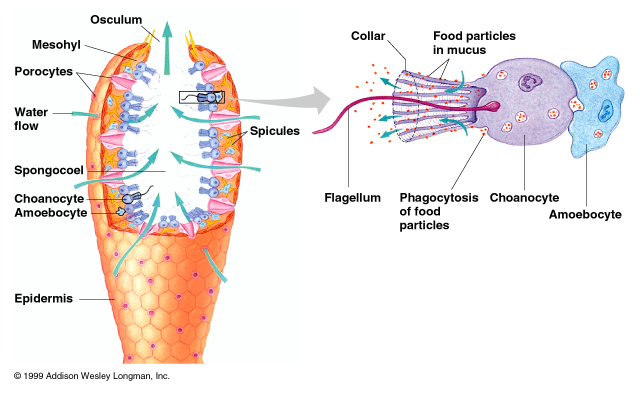 Sponge schematic from
Steven Carr Genetics, Evolution, and Molecular systematics Lab
- Memorial University of Newfoundland
Body plan:
In their simplest form, sponges are hollow cylinders of living tissue, attached to the substrate at one end and open at the other. Key features:
Spongocoel: The large cavity occupying the sponge's interior.
Osculum: The opening from the spongocoel to the exterior through which filtered water is expelled.
Incurrent canals: lead from the exterior, through the body wall, to the spongocoel. Entrances to these are termed ostia (sing. ostium)
Mesohyl: Cells line the outer and inner surfaces of the sponge, and form the walls of pores. They secrete a gelatinous extracellular matrix of mesohyl that occupies the space in between. Depending on the type of sponge, this may also contain calcareous or silicate spicules or spongin fibers.
In a few cases, sponges secrete a massive external skeleton of CaCO3.
Sponge cell schematic from
Wikipedia
Specialized cell types:
Choanocytes: Line the spongocoel, propelling water toward the osculum (hence drawing it into the ostia.) Choanocytes are primarily responsible for capturing food, which they filter from passing water, ingest, then package in golgi bodies and transfer to archeocytes, who transfer it to other cells. They closely resemble choanoflagellates
Pinacocytes: Line and protect the outer surface and may ingest food particles too large to pass through pores. Also secrete massive external skeleton, if there is one.
Porocytes: Line the pores and control the size of the ostia.
Archeocytes (a.k.a. "amoebocytes"): amoeboid cells occupying mesohyl that digest and transport nutrients. Archeocytes are totipotent - capable of transforming into most other cell types when needed (including ova).
Sclerocytes: Inhabit the mesohyl and lay down mineral spicules.
Spongocytes: Inhabit the mesohyl and secrete a form of collagen that polymerizes as spongin fibers.
Myocytes: Cells capable of contraction occur occasionally.
Gray cells: Mediate something like an immune response, immobilizing or killing cells in the vicinity of an infection.
Whether sponges lack tissues depends on one's definition. Indeed, the beginnings of distinct tissues are discernible:
Endoderm: Choanocytes lining the spongocoel
Ectoderm: Pinacocytes lining the exterior.
Sponges are capable of only the simplest organized movement, although pinacocytes can often contract in a coordinated manner, and some sponges possess specialized myocytes that can contract to close off vulnerable areas like the osculum.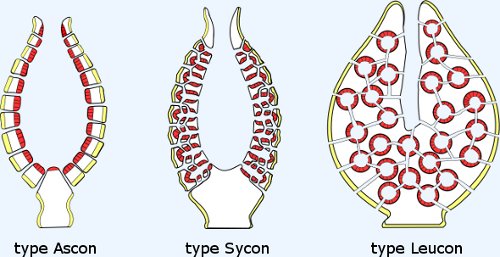 Sponge organizational grades (choanocytes in red) from
AuxBulles.com
Fractal architecture:
Although all sponges conform to this body plan, many increase their complexity by repeating it in a fractal manner. In the schematic at right, choanocyte-endoderm is highlighted in red:
Ascon grade sponges consist of single cylindrical units.
Sycon grade sponges are composites of numerous ascon-type units formed by the pleated infolding of the inner surface. In them, macroscopic incurrent canals bring external water to the pores.
Leucon grade sponges are, in turn, composites of syscon-type units with complex three-dimensional networks of incurrent canals and choanocyte chambers.
Sponge larve from
Palaeos
Reproduction may be:
By budding
By production, in times of stress, of gemmules - hard-walled cysts containing archaeocytes. These survive harsh conditions and germinate to form new sponges, with archaeocytes differentiating into other necessary cell types.
Sexual, with ova developing from archeocytes, and sperm from choanocytes. Fertilization can be external or internal (with sperm from other individuals being captured by choanocytes and transferred internally to ova.)
Zygotes develop into larvae - balls of ciliated cells (either directly as part of the plankton or inside their mother) that swim in the plankton then settle onto the substrate, whereupon their cells transform into archaeocytes and from there into the normal array of adult cells.
Major traditional taxonomic groups (clades?)
Calcarea:

White cryptic sponge,

Leucandra aspera

.

Calcarea. (Cambrian - Quaternary) Characteristics:

Ascon, sycon or leucon, grades.
Spongin fibers absent.
Crystalline calcite spicules of diverse morphology.
Calcarea prefer warm shallow waters - coincidentally, the kind of environment where CaCO3 precipitates most readily.
Precipitation of calcite is mediated by carbonic anhydrase. Sclerocytes form spicules inside a proteinaceous sheath that is displaced by the growing crystal. Indeed, metabolic effort seems to be required to limit crystalization (Weiner and Addadi, 1997.)
Some may also secrete massive external skeleton of calcite. When this is present, it consists of amorphous calcite - calcite granules mixed with glycoproteins.

Diversity: Numerous groups. Of special interest:

Sphinctozoan forms were significant Permian reef builders, pruned significantly by P-Tr extinction, and "extinguished" in the fossil record at K-P extinction. And yet the living Vaceletia is considered to be a sphinctozoan. A Lazarus taxon or an Elvis taxon?
Never as diverse as other major sponge groups, but calcarean peak diversity is during Cretaceous, matching the pattern from other major groups.




Demospongea:

stove-pipe sponge

Aplysina archeri

and barrel sponge.

Demospongea (AKA Demospongia, Demospongiae (!)): (Cambrian - Quaternary) Roughly 90% of modern sponges. Characteristics:

All leucon grade
Spongin generally present
Spicules, when present, are of amorphous silica and may come in a variety of shapes. In contrast to hexactinellids (see below), their rays are never at right angles.
Internal transport of dissolved silica is mediated by silicase, chemically very similar to carbonic anhydrase. Sclerocytes deposit amorphous silica blobs onto a matrix of silicatein and glyconectin inside a vacuole, then export into mesohyl. Note that in this case, effort is expended to promote silica deposition.
Some with encrusting morphology lack spicules or spongin.
Less limited to shallow waters than Calcarea. (Consistent with their reliance on silica.)
Massive external skeleton, if present, made of aragonite (cf. Calcarea.)

Diversity: Too great to explore here, but likely to include some oddballs such as:

Living "sclerosponges"
Chaetetids
Stromatoporoids

Important reef framework builders, especially during the Permian.
Peak diversity during the Cretaceous.




Hexactinellid from

NOAA Ocean Explorer

Hexactinellida: (Ediacaran - Quaternary)

Characteristics:

Pinacocytes not present. Thus, hexactinellids lack the ability to contract.
Most cytoplasm occurs as syncytia, multinucleate masses of cytoplasm w/o clear cell demarcations.
The hexactinellid skeleton: Composed of six rayed, jack-like triaxons, whose rami meet at 90 deg angles, forming an open lattice. (In contrast to Demospongea.)
Spongin fibers are absent.
Leucon grade only, but significantly transformed. The syncytium is suspended from this lattice in a lace-like network. Choanocyte chambers containing choanosyncytia are suspended within this network.
Transmit electrical impulses across their bodies quickly through syncytia. For example, when exterior water is turbid, flagellae of choanosyncytia can be shut down throughout the sponge.
Particularly good fossil record, as they are more likely to remain intact after death. (E.G. Dictyophyton)
The late Ediacaran Palaeophragmodictya is claimed to be the oldest unambiguous fossil sponge (Gehling and Rigby, 1996) (but see also Serezhnikova, 2007.)

Ecology:

Prefer soft substrates and relatively quiet, cold waters.
Common at greater depths and high latitudes. Massive hexactinellid reefs known from 180 - 250 M. depth (hence below photic zone) off British Columbia.

First known from Ediacaran.
Abundant in latest Devonian, occupying ecospace vacant after Devonian extinction.
Suffered like everyone in Permian extinction.
Maximum diversity during Cretaceous.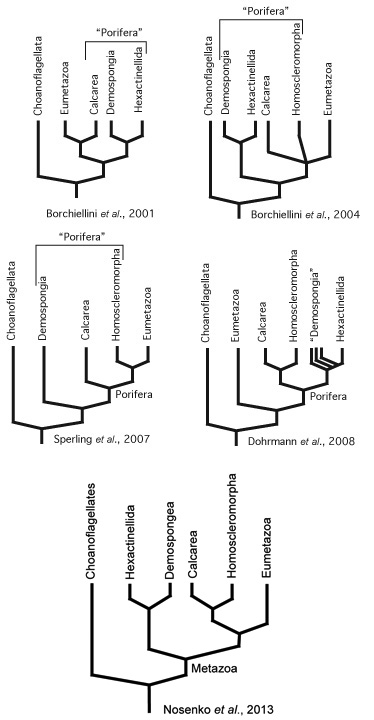 Is Porifera monophyletic?
An unsettled question. Complicating factors include:
Uncertainty about the monophyly of the traditional groups, especially Demospongea.
Character polarity. For example, Botting and Muir, 2017 report that the hexactinellid spicule pattern is, in fact, plesiomorphic for sponges. (Isolated hexactine spicules have been found in the early Ediacaran.) Indeed, Botting et al., 2017 report on Conciliospongia anjiensis from the Late Ordovician - a stem demosponge with hexactinellid-style spicules.
Recognition of a fourth major group: Homoscleromorpha based on molecular and cytological characters. Some features:

Siliceous spicules or with spongin.
Leucon grade.
Typically grow as encrusting layers studded with intermittent oscula.
Capable of secreting a basal lamina (extracellular membrane) of type IV collagen - a potential synapomorphy with Eumetazoa!
Additional similarities to eumetazoans in cytoskeletal features and intercellular signaling mechanisms.
Similar larvae to those of demosponges.
The techniques of molecular phylogeny have yielded ambiguous results. For example:
Given the morphological similarity of Homoscleromorpha to some demosponges, it is odd that molecular phylogenies consistently find Homoscleromorpha close to Calcarea with whom they lack morphological or cytological synapomorphies and pair Demospongea with Hexactinellida.
This issue is far from settled. Stay tuned!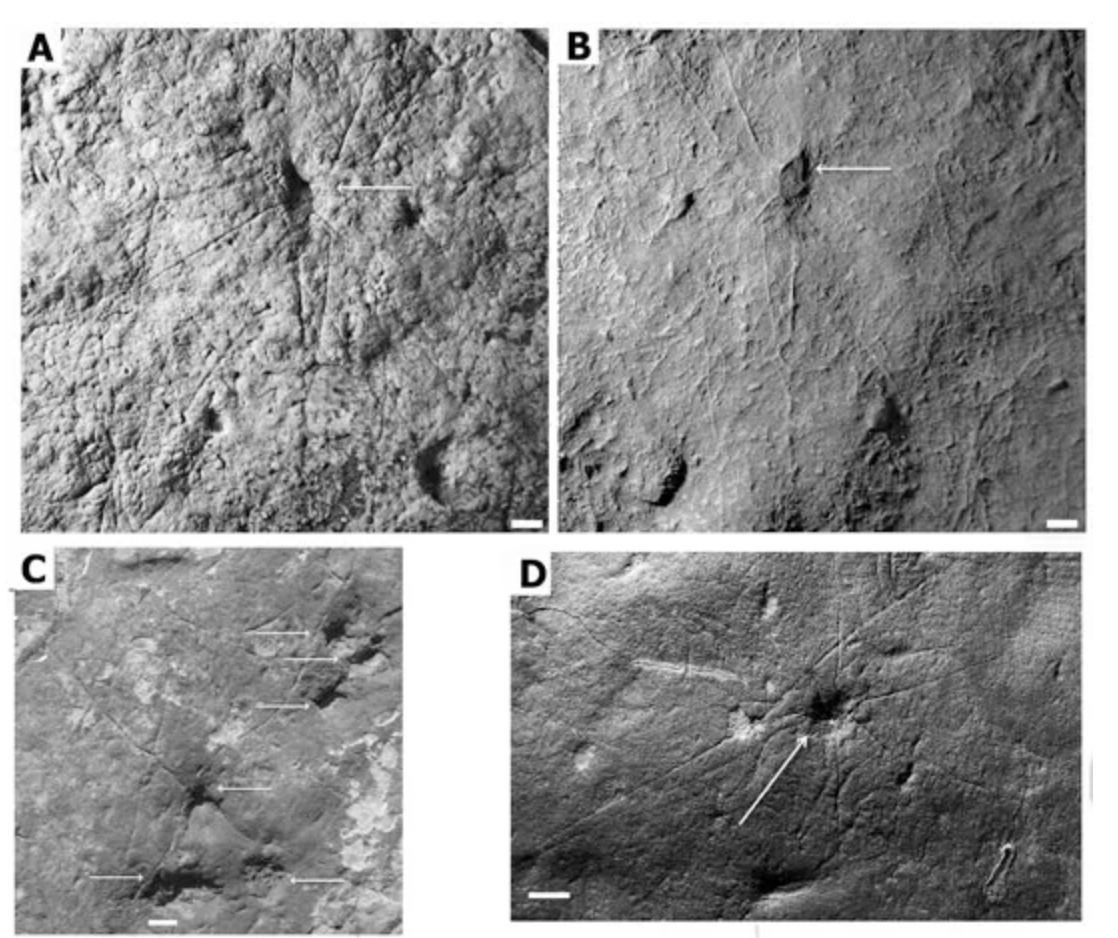 Coronacollina acula
from
SciTech Daily
The First Sponges:
Whatever their phylogeny, sponges may be the most ancient metazoans. Claims for precambrian sponge fossils include:

Before we get too excited, Antcliffe et al. 2014 reject these claims. Their conservative approach identifies the earliest sponges as hexactinellids from the earliest Cambrian of Iran.

Problematic fossil poriferans (?):
Chaetetida: (Ordovician - Quaternary) Encrusting laminar form with skeleton of closely packed upright tubes and, rarely, spicules. Enigmatic as fossils, stimulating speculation that they were algae or tabulate corals. Long thought to have died out in Miocene. Discovery of the living representative Acanthochaetetes wellesi, with siliceous spicules, clinched the argument that they belong to Demospongea.

Characteristics:

Form binding laminations of their massive external skeleton.
The external skeleton is composed of high-Mg calcite.
Hard parts consists of upright tubes with tabulae.

Ecology:

Binding reef organisms, requiring hard substrate initially.
Restricted to cryptic low-light environments such as reef cavities and overhangs.




Stromatoporoid from

Wooster Geologists

Stromatoporoidea: (Ordovician - Quaternary?): Monophyletic group or polyphyletic assemblage of Elvis taxa? Stromatoporoids, massive calcareous encrusting organisms, were important Paleozoic reef-builders that require our attention as primary organisms of mature reefs of the Silurian and Devonian.. Note: Don't confuse with stromatolites, even when they occur together.

Characteristics:

Encrusters with calcareous (high-Mg calcite) laminated massive external skeletons characterized by laminations separated by columns.
The living tissue occupied spaces between the upper laminations while lower ones (occupied previously) were back-filled with calcite.
Surface had swellings called mamelons, surrounded by radiating grooves called astrorhizae. Mamelons thought to indicate the sites of excurrent openings.




Cross-section of stromatoporoid encrustation of

Late Silurian Keyser Limestone at Cumberland Cave, MD.

Evolutionary trends:

Significant encrusting and binding reef organisms in Early Paleozoic. Indeed, stromatoporoid-coral reefs predominated in Siluran and most of Devonian. Soft sediments and hard-grounds were pioneered by solitary corals, but eventual climax reef ecologies were dominated by stromatoporoids.
Disappear from record at Devonian extinction.
Make a comeback during the Mesozoic, but never regain former glory. Are the Mesozoic stromatoporoids members of the same group, or are they ecologically convergent Elvis-taxa?




Sclerosponge

"Sclerospongea": As long as stromatoporoids were extinct, their true nature (alga? sponge? coral?) was debated. The issue was resolved when living cryptic sclerosponges were discovered. They had:

External massive skeletons
Silicate spicules
Mamelons and astrorhizae

Thus, stromatoporoids have more recently been regarded as fossil sclerosponges. Are sclerosponges Elvis taxa? Hard to say, but (contrary to your textbook) it seems clear that living sclerosponges are polyphyletic with members distributed within Demospongea (Chombard et al., 1997). They resemble stromatoporoids so strongly that we are at least secure in viewing living sclerosponges and stromatoporoids as members of Demospongea. Beyond that, they probably represent an ecomorph that has evolved several times.




Archaeocyathid diversity from

Wikipedia

Before you conclude that all enigmas have been resolved...

Archaeocyatha: (Early - Middle Cambrian). Considered "poriferan grade" based on general body plan, but there is no consensus on their phylogeny. Reitner, 1990 found them to be nested within Porifera. If "Porifera" is paraphyletic, then GORK. At best, we assert that they branch close to, if not within Porifera.
A Final Thought:
I withheld one hypothesis of poriferan phylogeny - the minority view of Maldonaldo, 2004, who regards choanoflagellates as being derived from Demospongea through a process of paedomorphic simplification. Sounds strange, but is based in part on the observation that some choanoflagellates are capable of secreting internal structures of amorphous silica and the quite reasonable argument that in sponges, the ability to secrete silica was probably derived secondarily from the secretion of calcite.
Is it insane? Our aesthetic of evolutionary progress compels us to view choanoflagellates as precursors to poriferans, but nature isn't obliged to cooperate. Maybe Proterospongia is a drastically simplified poriferan, and choanoflagellates are choanocytes that have shaken free of their association with other cells. More data, please.
To Next Lecture.
To Previous Lecture.
To Syllabus.