GEOL 104 Dinosaurs: A Natural History
Fall Semester 2007
Dragons of the Sea and Air: Marine Reptiles and Pterosaurs
Not all reptiles of the Mesozoic were dinosaurs. There was a diversity of reptiles on land, and also in the sea and in the air.
Many reptiles (and other amniotes) have returned to the sea:
Abundant food
Equitable temperatures
Easy migrations
However, aquatic amniotes have to deal with:
Breathing (remain air-breathers)
Feeding (small fish, large fish & amniotes, shellfish, vegetation, etc.)
Locomotion (flippers, fins, etc.)
Reproduction (come out of water to lay eggs or some form of internalized reproduction)
First reptiles to return to an aquatic life were mesosaurs:
Early Permian of Gondwana
Members of the primitive reptile group Proganosauria ("Anapsida" to some)
Long needle-like teeth for catching small fish
Big (webbed?) hands and feet for paddling, tall deep tail for swimming
Could probably crawl on land, and probably laid eggs on land
Probably did not travel far from shore
Most primitive relatives of Mesozoic marine reptiles were similar in general form (long needle-like teeth, webbed hands and feet, deep tail, some terrestrial ability, probably shore-dwelling or fresh-water) to mesosaurs, but later forms become more specialized for life in the sea.
Many different clades of Mesozoic marine reptiles, from almost every clade:
Testudines (marine turtles)
Lepidosauria, both Rhynchocephalia (pleurosaurs) and Squamata (mosasauroids)
Crurotarsi (various marine crocs)
Even Dinosauria (hesperornithiform birds)
We will cover the most diverse and highly specialized forms: euryapsids (esp. ichthyosaurs and plesiosaurs), mosasaurs, and marine turtles.
A reminder of amniote phylogeny:
: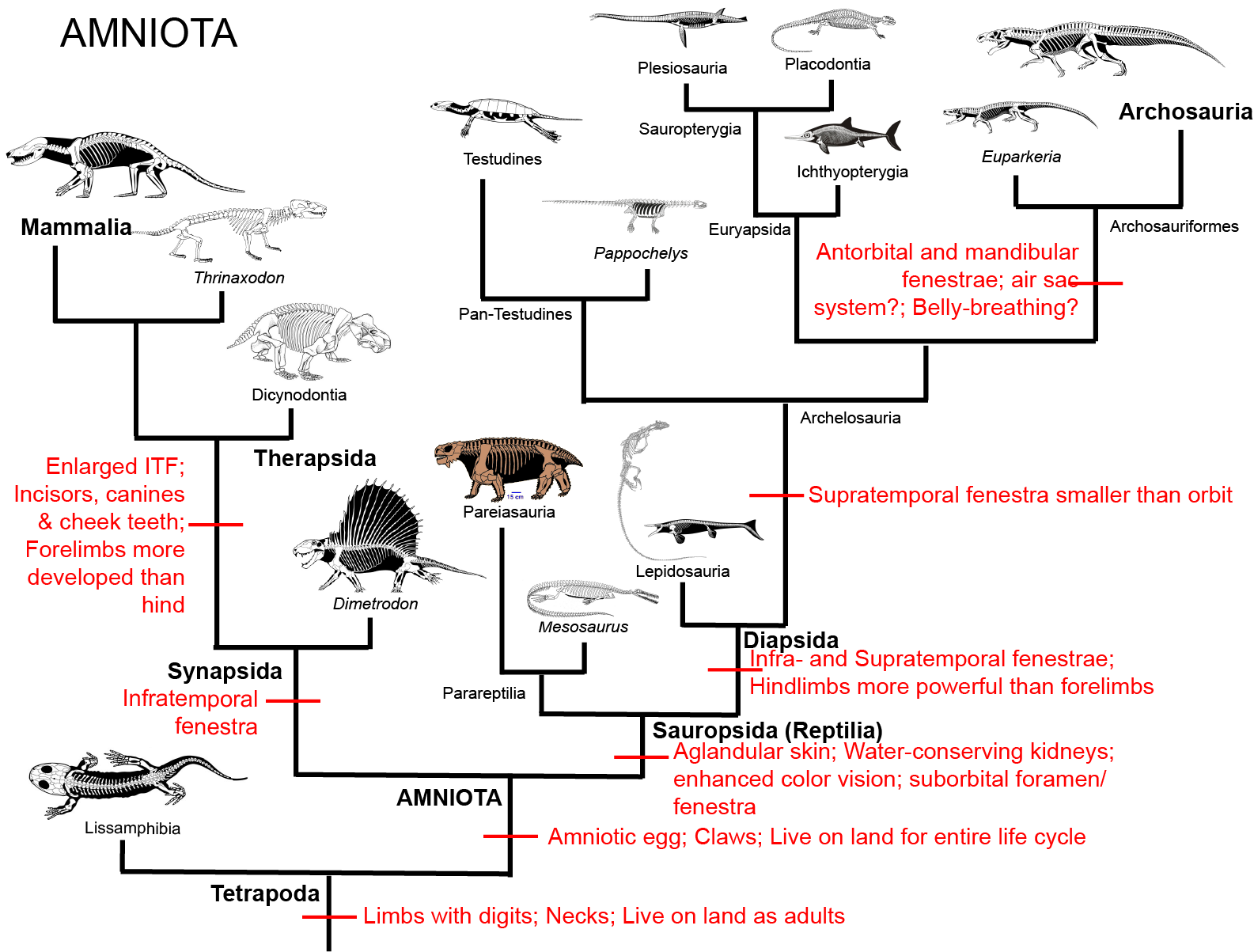 Euryapsida: more closely related to Archosauria than to Lepidosauria, so part of the larger clade of Archosauromorpha. Euryapsids:
First appear in Early Triassic
Most primitive members have webbed fingers and may have crawlled around on shore
Early euryapsids (and most later ones) seem to have been fish eaters, with needle- or cone-shaped teeth.
A variety of smallish Triassic forms: thallatosaurs, huphesuchians, pachypleurosaurs, nothosaurs, and placodonts (the latter with big crushing teeth, probably mollusk eaters)
Recent discovery shows that even
Remains show that even primitive euryapsids retained young inside body until birth, thus allowing them to live their entire life in the water. This allowed for the extreme specializations of the two highly derived euryapsid groups: ichthyosaurs and plesiosaurs
Ichthyopterygia (ichthyosaurs):
First appear in Early Triassic; die out in the earliest part of Late Cretaceous
Range from 1.5 to 15 m long
Most of long snouts and cone-shaped teeth: fish or squid eaters
Fore- and hindlimbs turned into flippers (for steering)
Carbonized impressions show big tail fin and dorsal fin: very dolphin- or tuna-like
VERY large eyes in some species: probably dove to deep water hunting squid
HIGHLY transformed anatomy: probably very fast swimmers but incapable of surviving on land
Plesiosauria (plesiosaurs):
First appear in latest Triassic; die out at the end of the Cretaceous
Fore- and hindlimbs turned into large flippers for swimming; tail generally short
Two general body types:

Small head, needle-like teeth, long neck: small fish or squid eaters
Large head, big cone-shaped teeth, shorter neck: large fish or marine reptile eater
The large-headed forms appear to evolve a number of times from the long-necks

Include the largest known marine reptiles of all (bigger than all theropods, and in fact bigger than all dinosaurs other than sauropods!)
Mosasauridae (mosasaurs):
Late Cretaceous only; survived until very end of Cretaceous
True lizards

Mosasauroidea includes Mosasauridae and some non-oceanic semi-aquatic forms
Close relatives of monitor lizards and sister group to snakes

Tail powerful and deep
Most mosasaurs with large cone-shaped teeth: fish, squid, ammonoid, and marine reptile eaters; a few have crushing teeth for feeding on shellfish
Remains show that they retained young inside the body until hatching
A couple of different closely-related families of marine turtles
First groups are Late Cretaceous; some died out in Early Cenozoic, others survive to today
Fore- and hindlimbs turned to flippers, forelimbs provide must of the thrust
Feed on shellfish, fish, jellyfish, vegetation, etc.
Shells are typically thinner than land-living turtles
Crawl onto beach to lay eggs, but otherwise fully marine
Just as several different groups of reptiles went back to the sea, some others took to the air.
A number of Permian & Triassic gliding reptiles, but only two powered flying groups:
Avialians (i.e., birds, a type of theropod dinosaur)
Pterosauria (pterosaurs, probably the sister group to Dinosauromorpha within Ornithodira, but some consider them more primitive archosauriforms)
Pterosaurs:
First appear in Late Triassic; died out at very end of Cretaceous
Had simple hinge-like ankle and S-shaped neck of other ornithodirans, but perhaps not parasaggital stance
Flew using extended manual digit IV (ring finger)
Skin stretched between finger and body, between legs, and from arm to neck
Wings reinforced by special internal fibres attached to muscles: could control shape of wing
Body covered with hair-like structures
Some think they walked bipedally, but most evidence suggests quadrupedal (almost gorilla-like)
Active powered fliers with large muscle attachments
Possibly warm-blooded
Ranged from 15 cm to 12-14 m wingspan!
Babies seem to have been able to fly right after hatching!
Earlier forms relatively small, short metacarpi, and long tails; later forms ( Pterodactyloidea, the true pterodactyls) could be very large, had long metacarpi, and short tails and were better adapted at walking
Variety of diets: insectivores, fish eaters, fruit eaters, etc.
No evidence of direct competition between birds and pterosaurs.
To Next Lecture.
To Previous Lecture.
To Syllabus.
Last modified: 21 November 2007