GEOL 104 Dinosaurs: A Natural History
Fall Semester 2000
Thyreophora: Defense, defense, defense
Thyreophora:
Name means "shield bearer"
Armored dinosaurs: diagnosed by presence of rows of dermal ossifications
Early thyreophorans small (1 m long) bipedal animals; later forms much larger and quadrupedal, with heavier armor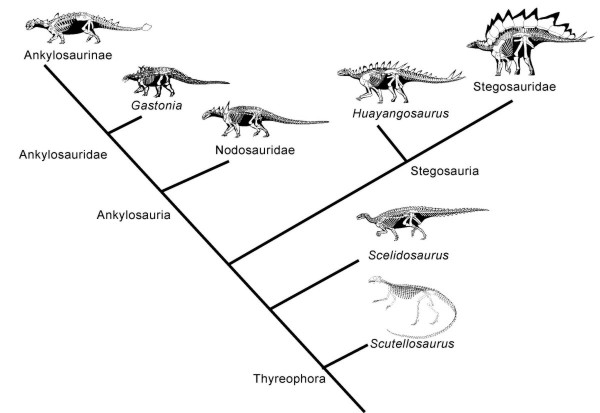 Early thyreophorans were small bipedal forms, much like an armored Lesothothosaurus. Best known of these is Scutellosaurus.
Early Jurassic of western North America
Armor useful against small predators
However, not so useful against bigger predators
Selection could have favored descendnats which were either faster with reduced armor (but there already were such dinosaurs present: ornithopods, for example) OR heavier armor. Result was larger, more heavily armored thyreophorans.
Best example of these: Scelidosaurus
late part of the Early Jurassic of Europe (and possibly western North America, China)
Larger than Scutellosaurus, about 4 m long
Armor was proportionately much larger
As a result, heavy armor required it to be an obligate quadruped
Thyreophorans more derived than Scelidosaurus are divided into two major branches, each specializing in a different mode of defense:
Stegosauria, concentrating on more active defense
Ankylosauria, concentrating on more passive defense
These new forms both appear in the Middle Jurassic, just as more sophisticated predators are appearing.

Stegosaurs:
First appear in Middle Jurassic, common in Middle and Late Jurassic, rare in Early Cretaceous, die out at or before Early-Late Cretaceous boundary
Reduce the size of most of the scutes on the body relative to Scelidosaurus:

Many scutes still present on neck, to allow flexibility but protect from attack
Some scutes over pelvic region, and possibly along the sides of a few species
Reduction in armor allowed them to be faster and more maneuverable

However, some scutes become much larger and highly specialized:

Plates (flat sided) and Spines (round cross-section) in pairs down the the back (derived stegosaurs such as Late Jurassic North American Stegosaurus had alternating plates rather than pairs)
Shoulder spines in the more primitive forms
Thagomizers (pairs of laterally facing spines) on the end of the tail:

Used as an active defense, swung from side to side
Named after a Far Side cartoon

Stegosaurs tend to have narrow pointed skulls, and probably fed as browsers
Primitive stegosaurus, such as Middle Jurassic Chinese Huayangosaurus, had front legs only slightly shorter than the hindlimbs; later stegosaurs had much reduced front legs

Some paleontologists suggest this would allow them to rear up to feed

Advanced stegosaur vertebrae look "stretched" dorsoventrally: their centra are vertical ovals in anterior view, and the neural archs are very tall
Ankylosaurs:
Also first appear in Middle Jurassic, are present but rare in Late Jurassic, but become extremely common in Cretaceous
Are more heavily armored than Scelidosaurus including:

Scutes fused directly to skull roof
Rings of fused scutes on neck and front of shoulders
Fused scutes over hip region
Laterally-facing spines in all but the most advanced forms
Small triangular hornlets sticking out from the rear of the dorsal surface of the skull
Large shoulder spines in some forms
Scutes down arms, and even over eyelids and cheeks of some species!
Were most likely passive defenders: hunker down and absorb attacks (although probably pushed back with their spine as well)

Ankylosaur skulls are generally more broad than stegosaur or Scelidosaurus skulls
Ankylosaur hips are very wide, and the ilia flare out to form shelf
Ankylosaurs have been divided into two clades:
Nodosauridae

Characterized by longer, lower, flatter skulls, very large shoulder spines,
Very likely paraphyletic
Hylaeosaurus is an Early Cretaceous European nodosaurid; Edmontonia is a Late Cretaceous North American one

Ankylosauridae

Characterized by shorter, deeper, triangular skulls with small triangular hornlets sticking out of the ventral surface of the back and by complex nasal passageways
Gastonia is an Early Cretaceous North American primitive ankylosaurid
The most advanced ankylosaurids were the Ankylosaurinae of the mid-Cretaceous of Asia and the Late Cretaceous of Asia and western North America

Developed a bony tail club for active defense against predators (tyrannosaurids)
Ankylosaurus is an ankylosaurine, and the largest ankylosaurine, ankylosaurid, ankylosaur, and one of the largest thyreophorans (are some very large stegosaurs, too)
To Next Lecture.
To Previous Lecture.
To Syllabus.