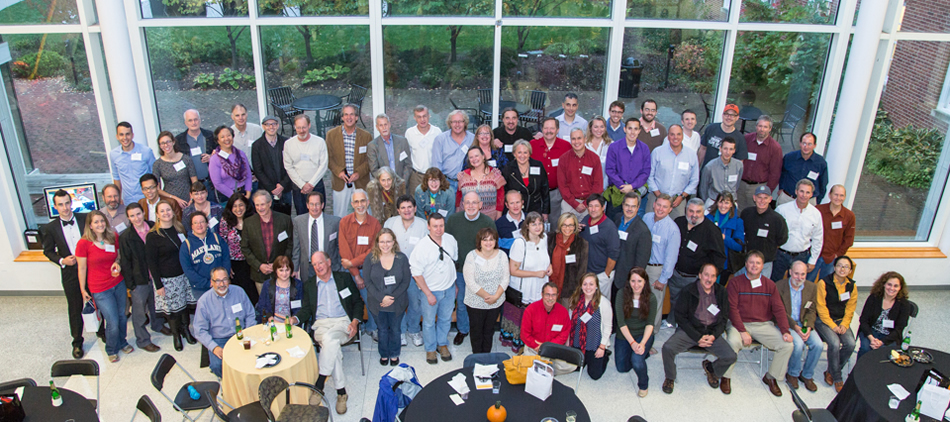 It was wonderful to see so many of our alumni and friends at the 40th birthday celebration!
Photos from the party can be seen from our album on Facebook and you can read a recap of the days events in the 2013 issue of the GeoGram.
And, if you haven't already, don't forget to Like our page to keep up to date on everything that is going on!
Thanking our advisory board and our sponsors
We extend a special thank you to our sponsors and our alumni advisory board. Without their support, this event would not have been possible.
Brenda Bohlke
Eric Dougherty
Mark Eisner
Allie Gale
Dave Grogan
Steve Keirstead
Joe Segreti
Brendan Shane
Mark Shupe
Bill Smith
Martitia Tuttle
See who's RSVP'd
Founding
Faculty

Bob Ridky

Anthony Segovia

Galt (Henry) Siegrist
(guest: Alicia Siegrist)

Peter Stifel

Ann Wylie

Alumni
Year
Graduated
Brenda Bohlke
1973
Steve Keirstead
(guest: Peg Keirstead)
1975
Alicia (Watson) Siegrist
1975
Larry Thrasher
1975
Bob Virta
1976
Robin Reichlin
1976
Eric Steel
1976
Mike Eisner
1977
Tim Ungrady
(guest: Cathy Pleskunas)
1977
Phil Manger
1979
Kathy Manger
1979
Berta Schreiber
1979
Mark Shupe
(guest: Kathy Shupe)
1979
Jim Schmidt
1979
Peter W. Schweitzer
(guest: Susan E. Schweitzer)
1979
Willy Accame
1980
Sara Dydak
(guest: Karl Dydak)
1980
Bob Glazier
(guest: Azita Farjam)

1981
Dave Grogan
(guest: Denise Grogan)
1981
Bill Smith
(guest: Dori Smith)
1981
Elizabeth Creamer
1982
Eric Doughtery
1982
Ed Jacobsen
1982
John Libert
(with guest)
1982
Alan Strauss
(guests: Lisa, Jennifer)
1982
Barbara Hunter-Brown
1983
Mark Crowell
1983
Mark Eisner
1983
Tony Creamer
1985
Don Mullis
1985
Rex (Winston) Riley
(guests: Carol, Ryan Brandon and Jessica)
1985
Michael Tuttle
1986
Pamela Barnard
1987
Doug Bell

1987

Peg Nemoff
1987
Diana O. Van Elburg
1987
Dr. Robert Beauchamp
(guest: Mrs. Robert Beauchamp)
1988
Leslie J. Hale
(guest: Paul Pohwat)
1989
Eric Hirtle
1989
Vicki Moldovon Soto
1989
Mike Eybel
1990
Richard Livingston
1990
Sean Patrick
1990
William B. Lodder
(guest: Ruth L. Lodder)
1992
Phil Piccoli
(guest: Anne Piccoli)
1992
Jerry L. Burgess
1994
Brendan Shane
1994
Paul Tomascak
1995
Tracy Rocca-Weikart
(guest: David Weikart )
1997
Jaqueline Mann
1998
Craig Hebert
1999, 2003
Gary Solar
1999
Russel Meyer
2000
Amina DeHarde
(guests: Sarah, Hannah)
2001
Brooke Carter
2002
Tracey Centorbi
(guest: Michael Centorbi)
2003
Katherine Cooney
(guests: Michael, Liam, William and James Cooney)
2005
Mark Tyra
2005
Kate Burgy
(guest: Dan Jacques)
2006
Allie Gale
(guest: Sarah Waterworth)
2006
Nick Geboy
2006
Krystle Behrns
2007
Kristina Brody
2007
Rob Thomas
2007
Kateryna Klochko
(guest: Jonathan Policarpio)
2008
Maria Leone
2008
Adam Mansur
(guest: Sarah Sillin)
2008
Edward (Gus) Kingman
2009
Andrew Kosiba
(with guest)
2009
Jeffrey Lillibridge
2009
Ricardo Arevalo Jr.
(guest: Paula Arevalo)
2010
Jennifer Collins
2011
Greg Shofner
(and family)

2011
Tommy Tamarkin
2011
Gregory Archer
2012
Michael Mengason
(and family)
2012
Julia Gorman
2013
Grant Jiang
2013
Irene Kadel-Harder
2013
John Kemper
2013
Xiaoming Liu
2013
Katherine Watter
2013

Faculty/Staff
(Current/Emeritus)

Richard Ash
(guest: Margaret Carruthers)


Katherine Bermingham


Mike Brown
(guest: Jenny Brown)


Phil Candela


Tracey Centorbi
(guest: Michael Centorbi)


Mike Evans
(guests: Anu Gupta, Maya Evans and Aditi Evans)


James Farquhar
(guest: Lisa Farquhar)


Stephen Halperin


George Helz
(guest: Rosalind Helz)


Thomas Holtz
(guest: Sue Shambaugh)


Jay Kaufman
(guests: Karen, Colleen and Lindsay)


Sujay Kaushal


Ved Lekic
(with guest)


Aaron Martin


Jeanne Martin
(guests: Tom Martin +2)


John Merck


Bill McDonough


Laurent Montesi


Sarah Penniston-Dorland


Karen Prestegaard


Igor Puchtel
(guest: Valentina Puchtel)


Roberta Rudnick


Rich Walker
(guest: Mary Horan)


Wenlu Zhu

Current Students

Jessica Adams


Hailong Bai


Jeremy Banker


Caitlin Brown


Kang Chen


Albert Chen


Alan Cinsavich


Huan Cui


Erin Cunningham


Tom Doody


James Dottin


Chao Gao


Kalev Hantsoo


Yu Huang

Alex Jacob


Palma Jarboe


Stephanie Johnston


William Junkin


Mark Larson


Elizabeth Lee


Su Li


Brendan Lockhart


Alex Lopatka

Adele Lu


Kevin Miller


John Nance


Chris Olsen


Zach Reeves


Leigh Roble

Miriam Sharp

Nick Sharp


Anna Statkiewicz


Ming Tang


Jonathan Urban


Michael Wilks


Emily Worsham